CAN Human Rights Exhibition Landscape
Project Title:
The Exhibition Landscape of Human Rights in Canada: An Ethnographic Study into Process and Design
This section has been a place for me to share my doctoral research as it progressed. This online space has also been a place for me to think through what human rights related heritage practices actually look like in Canada. The use of images throughout my research has provided me with a critical way to visually conceptualize how various practices, places, and institutions are both connected to one another while also informing one another. The visual landscape produced through the lens of a camera and the sensory practice of reflecting on being in place worked together to produce a narrative of human rights exhibition work in Canada. Under each photograph I have added snip its of information describing this project ranging from my project abstract; forms of methodological and theoretical practice incorporated in my work; major research findings; and a series of random thoughts delivered as auto-ethnographic reflections that surfaced in my mind as I roamed through the phases of fieldwork, research analysis, and writing contemplation during the duration of my doctorate. Thoughts and photographs were added sporadically—turns out keeping up to date with web posts is tough! —however, insights were gained daily :). While this space continues to remain an informal and playful way (read: yes, there are likely several grammatical errors that I never seem to catch) for me to work through my research findings, my final written dissertation incorporated a photo-essay chapter that was built from the drafts of this space.
"Canadian Museum for Human Rights". Winnipeg, MB
Image Copyright JCRobinson 2014
Project Abstract:
As places where multiple cultures, faiths, and artistic practices come together, museums exist as physical sites of intersection. They are at once sites of debate, dialogue, protest, and partnership. This intersection uniquely positions museums as capable of tackling challenging subject matter related to human rights and global justice. Through interviews conducted with heritage professionals from eight different institutions across Canada, this dissertation analyses the curatorial practices, methods of collections research, exhibition design strategies, educational programming, and public outreach initiatives of these institutions as they relate to Canada's three official national apologies delivered in the House of Commons for: The Japanese Canadian Internment during World War II; the Chinese Head Tax and Exclusions Laws; and Indian Residential Schools. This research considers: (1) how are human rights abuses that have occurred in Canada are presently being defined and displayed in Canadian galleries and exhibition spaces; (2) the nature of collaborations and partnerships involved when designing exhibitions of this nature; and (3) the role of both material culture and survivor testimony in processes of creating human rights exhibitions. As a multi-sited ethnographic study into the process of museological project design, the results of this research provide valuable insights into the challenges faced and the strategies deployed by heritage professionals when working with difficult subject matter. This research finds that emotional experiences factor greatly in processes of project development about challenging subject matter. Working with survivors of trauma is not just about creating a successful exhibition; in the end the exhibition is but one part of the museological process. Museological work of this nature typically involves working directly with survivors of trauma with exhibitions that are driven in development more often by the personal narratives shared by survivors and less so by objects in collections. As such, this strain of museological work comes with the possibility for survivors to heal from past trauma through the sharing of their experiences and this healing is part of the transformative potential of museological work. Additionally, this research strongly indicates that the flexibility of smaller, community-driven institutions where the needs of participants in the project are central to the curation process, stand as strong examples of human rights work produced through the space of the museum. As such partnerships between smaller galleries and larger museums exist as valuable sites of institutional collaboration in Canada. Finally, this research indicates museums are situated as key players in the ongoing development of human rights discourses in Canada. Museums create and contribute to the general public's legal understandings of rights and justice as produced through the pedagogies of museum practice, and these pedagogies come to educate the public about acts of discrimination, cultural inequality, violence, and genocide that have occurred in Canada. Such contributions position museums as public institutions as valuable to twenty-first century rights-based research in Canada.
 
"Warning at the Canadian War Museum". Ottawa, ON
Image Copyright JCRobinson 2014
The data collected for this project is primarily based on semi structure interviews I conducted with museum curators, lead project researchers, directors, programmers, academics, and community activists and historians about their experiences creating exhibitions that deal or have dealt with difficult subject matter pertaining to Canada's three official national apologies delivered in the House of Commons for: the Japanese Canadian Internment during WWII (1988), the Chinese Head Tax and Exclusions Laws (2006), and the Indian Residential School system (2008). This project has been an effort to identify the processes of museum work involved when designing exhibitions of this nature - what are the strategies and challenges of working with this type of material in an exhibition context? What partnerships are formed in order to build emotionally charged exhibitions? How do heritage professionals view the role of survivor testimony and material culture in processes of creating human rights exhibitions? Are these exhibitions contributing to broader discussions of human rights in Canada? These are some examples of my main research questions that form the backbone for the full series of questions I asked during our conversations
"Documenting the Documenter"
Image Copyright JCRobinson 2014
With eight fieldwork sites, much of my time for this research was spent in gallery spaces. As a recording device, the camera provided not only a tool to visually capture my experiences, but the images I took provided an analytical space for me to think through my field work experiences in new ways during the process of data analysis. Images can show us things maybe we didn't fully see in the photographic moment, helping us to both document our roles as documenters and opening new lines of inquiry and reflection. The process of editing, whether photographs, film, or sound clips, is an imaginative and active place where researchers bring media together in new and creative ways of knowledge production (Boudreault-Fournier 2017; Pink 2007). For me, the process of editing became an important place of contemplation during this research. All the images were edited for clarity, some were cropped to highlight aspects of the photo. Others have been creatively altered in Photoshop. It was while choosing images, playing with colours, cropping, adding layers, that my mind wandered into the spaces in between the images. It was in this space of wandering that new insights developed that were not part of my gallery visits or interviews. It was through spending time with my images that a narrative began to emerge out from this research and this narrative enabled me to see how my field sites are connected to each other; connected to the cities they reside in; and connected to various rights issues and heritage spaces across Canada.
"City Walker"
Image Copyright JC Robinson 2014
Research is filled with unexpected moments. Something that stood out to me early on in this project was just how significant my eight field sites are within the city they reside. This connection is significant not only when thinking about the work an institution attempts to conduct, but the collection it cares for, the community of people it is attempting to reach, and the physical presence these buildings have on the urban landscape. Museums, art galleries, and historic sites are part of the arts and culture fabric of an urban environment, and together they form a network within a city based on historic and contemporary artistic and cultural practices that connects directly to specific sites of historic memory and to collective understandings of past events (Blumer 2015; Busby et al. 2015; Phillips 2006, 2015). For example, walking through Chinatown in Vancouver and the area around Powell Street in east Vancouver where Canada's largest group of Japanese Canadians resided prior to WWII, gave me a better appreciation for how particular heritage spaces such as the Chinese Canadian Military Museum and the Nikkei Cultural Centre are intricately connected to this part of the city. In this sense heritage spaces, particularly those to do with rights-related events, form a network—or landscape—across the cities where they reside but also come together to form a larger network across Canada. A network that comes together to tell a larger story about the development of rights in Canada and the role that heritage spaces across the country play in this development. Walking is a sensory, experiential form of critical practice where reflection comes through moments being in place (de Certeau 1984; Ingold 2000; Moretti 2017; Pink 2008, 2009, 2012). And so, like a 19th century Flâneur, walking through the cities where my research sites were located has been a vital part of the field work process, which is a bonus because I love walking and getting lost in cities—both mentally and physically—as a necessary act of meditation for my mind.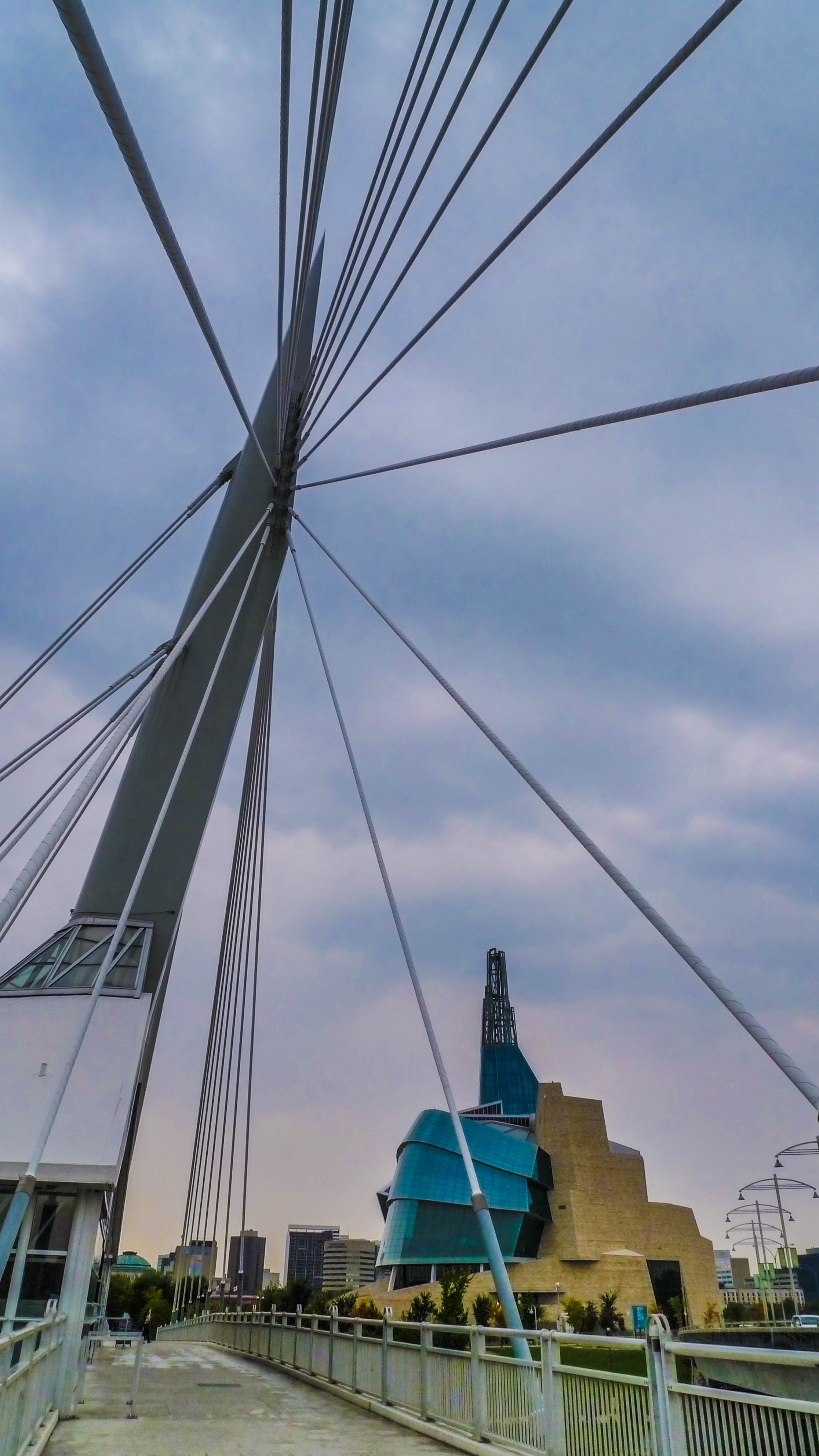 "CMHR - From the Bridge". Winnipeg, MB
Image Copyright JCRobinson 2014
The CMHR was my first official fieldwork stop back in September 2014. Though I couldn't actually get any tickets (via the lottery system set in place by the museum for the opening weekend) to go inside the galleries this visit, this turned out to be a strange blessing in disguise. In addition to spending time at the opening ceremonies and public events planned for the opening weekend, I spent a lot of my time in Winnipeg walking around the city, talking with people, and taking in a general sense of what it means for this institution to have been built in this place. The CMHR has very much marked landscape with its presence and it is a presence that is felt. Given the timing of the opening of this museum coinciding with the beginning of my research year, I noticed early on as I moved on to further research sites after the opening of the CMHR, thoughts from the people I interviewed as well as the many exhibitions I reviewed for this project, have all become in many ways, part of a response to the creation of the CMHR. Given Canada now has a museum like this, that is a museum "for human rights", this project has been an opportunity to put the CMHR and the exhibitions built in this institution in conversation with other institutions across the country that also have experience, in some cases several decades worth, with this type of exhibition development. There are many examples of these across Canada and my research really only touches on a fragment of these. The real question I was left with after leaving this first visit (and also my second in Feb 2015) was how and if, the CMHR is conducting or ready to conduct the curatorial work required to work on human rights issues. There is a great difference between human rights displayed thematically and human rights work being done through a cultural institution.
"The Forks". Winnipeg, MB
Image Copyright JCRobinson 2014
While visiting Winnipeg, I spent considerable time reflecting on the CMHR's physical presence on the landscape of the city. This museum is one of the only national institutions in Canada to be built outside of the capital city of Ottawa. The choice to build in Winnipeg and in the Forks area of the city was a very deliberate decision. I found myself fascinated with the city of Winnipeg and grateful for the opportunity to become connected to this place via my work. There are so many layers of historical depth to this city and these layers mark the landscape in many ways.
Winnipeg is a culturally diverse city that carries a municipal consciousness of social and political justice. Winnipeg was at one time the physical and commercial center of Canada: Union Station at the edge of the Forks was the center of the Canadian Railway, where commerce, goods, and people gathered. The Forks at one time had immigration sheds where new comers to the Prairies were stationed during the late 1800s and early 1900s before moving to on to other parts of the country. Winnipeg was also the site of Canada's first workers strike in 1919, which funneled into the downtown streets near the Forks. The CMHR today sits across from Saint Boniface, the home to the Métis Government, where the legacy of Louis Riel and the Red River Rebellion exists as a strong reminder that the province of Manitoba was created to protect the rights of the francophone and Métis communities in the newly developed country of Canada after Confederation in 1867 (Busby et al. 2015; Newman and Levine 2014).
"The Forks National Historic Site of Canada". Winnipeg, MB
Image Copyright JCRobinson 2014
These many layers of history are in part why the CMHR was very consciously built in this place. The Forks was designated a National Historic Site of Canada in 1974 by the Government of Canada, it has the official Government sign, numerous public pieces of art, a big market, live music - it has the feel of a tourist attraction with restaurants, a market, open spaces for public performances, and other museum spaces such as the Children's Museum and the Railway Museum.
"Where the Two Rivers Meet". Winnipeg, MB
Image Copyright JCRobinson 2014
Winnipeg and The Forks also have a different kind of feeling... the kind where you can feel history seeping in you when you look around. This is the palpable kind of history. The Forks is the place where the Red River and the Assiniboine River meet (pictured here) on what is Treaty One territory. It was a place of connection and trade for Indigenous peoples for thousands of years and later for fur traders seeking to supply the North West Company and the Hudson's Bay Company. The Forks today with the crossing of the rivers is a place where people celebrate (!) the winter months by skating down the rivers, listening to music, and drinking Caribou (fortified wine). It is also the place where recently a number of bodies have pulled to shore of the river banks, including many Indigenous women, some only young girls. The Forks has a different kind of feeling... the kind where you can feel history seeping in you when you look around. This is the palpable kind of history.
"Human Rights, Public Spaces" Winnipeg, MB
Image Copyright JCRobinson 2014
"Chocolatizing CMHR" Saint Boniface, MB
Image Copyright JCRobinson 2014
While the opening of the museum may have fallen a bit flat on many fronts—the limited tickets for one—what the opening did provide was a chance for other places, institutions, galleries to join in welcoming a new cultural institution to the city. The Winnipeg Art Gallery held a human rights themed exhibition, the Forks had an exhibition of information panels discussing human rights (previous photo), and pictured here is a chocolate shop celebrated the opening with CMHR-themed treats. As I spent time in the city, I sensed that despite skepticism, there is also some hope that by having a new big museum, a national museum at that, not only will this help spark tourism to the city, but it will also spark the ability for the CMHR to serve as a critical site for human rights dialogue. People seemed genuinely interested in this potential. This is currently where much of the critical scholarly focus on the institution is being place - more on this to come...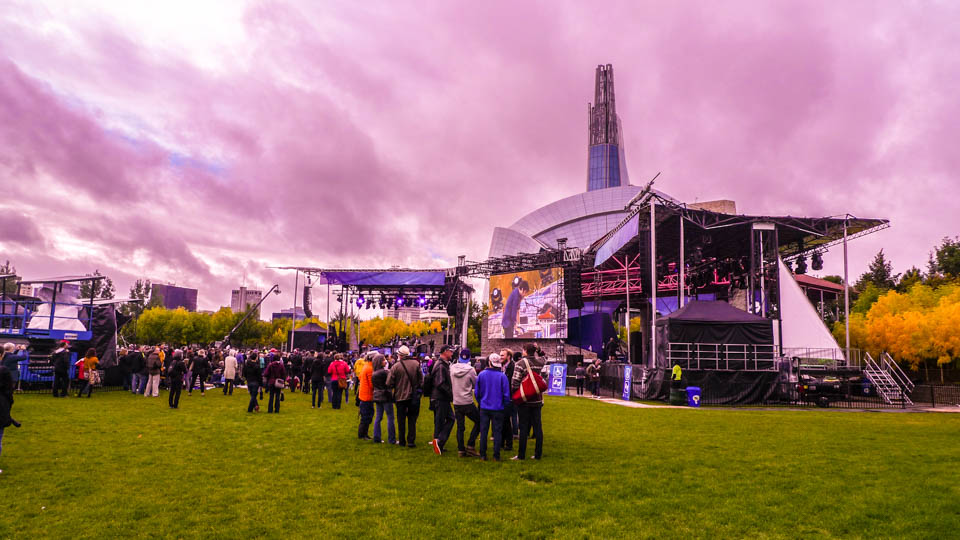 "Royal Canoe" Winnipeg, MB
Image Copyright JC Robinson 2014
This a photo of the Winnipeg group Royal Canoe during their set at the CMHR opening events. Though a number of great acts were scheduled, set times for artists were very short (30 mins), and many shows were cancelled due to heavy rain. Controversy also broke out surrounding the performances after A Tribe Called Red, the scheduled headlining group pulled out of the line-up stating they disagreed with the museum's decision not to call Indian Residential Schools an act of genocide against Indigenous people by the Canadian Government. ATCR is an incredibly successful group of three Indigenous DJs based in Ottawa and their decision was a big political statement. Royal Canoe still chose to play, however, they used their super short set time strategically to acknowledge the massive controversies surrounding museum, their own conflicting feelings about playing, and the fact another body was just pulled from the Red River on the day of their performance. They called out Prime Minister Harper's failure to recognize the astonishing number of missing and murder Indigenous women across Canada and for all of us to use the physical presence of this new museum as a reminder of the human rights issues present in this country. This moment and the controversy surrounding this opening was great reminder to me of the power of artists and the important role they continue to play in every society. During this weekend it was musicians - whether in their decision not to play or to play with the use of specific words - who had the courage to take a very public stand on present day understandings human rights in Canada. Not surprising the sun broke through clouds during Royal Canoe's set.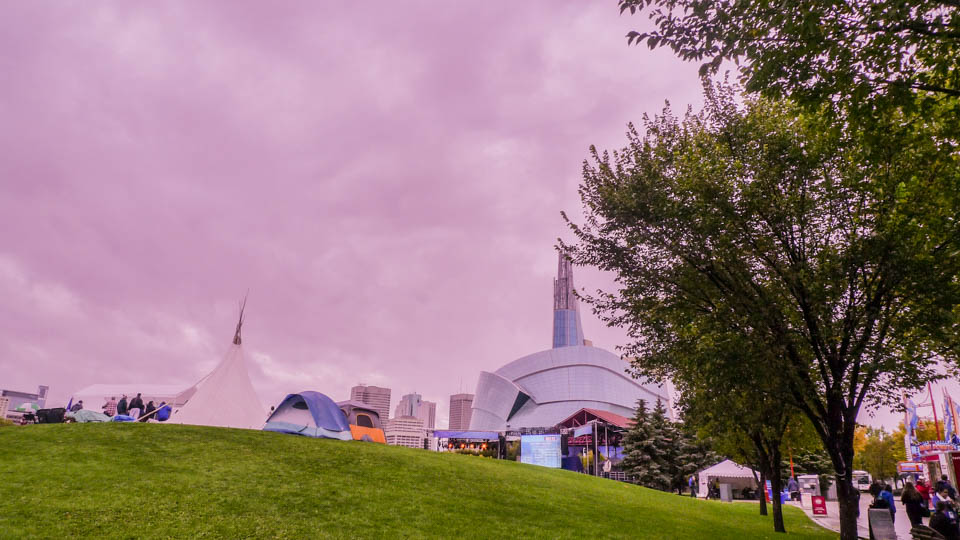 "Shoal Lake" Winnipeg, MB
Image Copyright JC Robinson 2014
The museum's opening was the focus of other forms of protest as well. This image shows the Shoal Lake protest camp that was set up directly opposite the CMHR. Members from Shoal Lake 40 First Nation came to protest the lack of basic resources in their community, including access to clean, running water. Located near the Manitoba/Ontario border, Shoal Lake has been an isolated community for close to a century, after it was cut from the mainland by the provincial government in order to build an aqueduct to supply water to the city of Winnipeg (Lehrer 2015a). This protest was one of many that occurred on the site of the museum grounds during this opening weekend. During my travels, I spoke with many people about their thoughts on this museum, which in almost every case turned into a discussion about human rights. During one casual Saturday night at a friend's place, a few of us were discussing rights, the museum, access to health care, social services, and adequate housing in Winnipeg. In response to this moment one person noted how lucky we were to be able to sit and have this discussion—to be able to sit back and contemplate what human rights are, or should be, about where they are lacking at the very basic level in parts of our cities across the country. I saw this moment as one of the biggest takeaway messages from the opening of this museum. On some strange level, opening a museum with a $350-million-dollar price tag had people talking about rights; simultaneously, the physical site of the museum served as a place where rights were actively being debated and where protests were taking place (see also Lehrer 2015a). In this sense, despite the controversy surrounding the opening of the museum, the CMHR has served as a catalyst for rights-based discussions. Whether the museum is capable of doing the work of human rights—that is the on the ground real work that is required to help people through the outcome of human rights violations while educating others about these experiences—is yet to be seen.
"Waterfall Welcome in Ottawa" Ottawa, ON
Image Copyright JC Robinson 2015
The next stop on this journey was Ottawa (Fig. 14) for the Canadian War Museum and the Canadian Museum of History (formerly Canadian Museum of Civilization). I have had several research trips to Ottawa during my doctorate. Ottawa seems a somewhat unavoidable place in a project that is, in part, an investigation into the construction and deconstruction of Canadian nationalism and identity. Ottawa is the epicenter of Canadian politics; not necessarily the center of political action in Canada, or the center of politically active people, but the epicenter of the federal government. Ottawa is the home to the Parliament of Canada and its urban landscape is composed of the legacy of material wealth and architecture that came from the growth of Canada as a nation during the late 19th century. Ottawa is also home to Library and Archives Canada; the material memory of government action—or, in some cases, inaction—in Canada. These buildings are examples of spaces that constitute the bigger network of heritage institutions and monuments across Canada that contribute to notions of nation building. Within this network these institutions speak to one another, they influence one another, and together they in part, form the physical and visual landscape of heritage memory, contested or otherwise, in Canada.
"National Paper Trail" Library and Archives Canada, Ottawa ON
Image Copyright JC Robinson 2015
"Pink and Blue" Ottawa, ON
Image Copyright JC Robinson 2014
It was interesting to me that throughout a fieldwork year dedicated to gathering evidence of how human rights issues have been and continue to be exhibited in Canada - that in almost every city that I visited for this project I ran into some form of an abortion/anti-abortion protest. There was a constant anti-abortion presence at the opening of the CMHR in Winnipeg for example, though it seemed the protest was rather lost amongst the media spot light that was instead devoted to much larger current issues such as those related to the CMHR exhibition content (the use of the word genocide with reference to Indian Residential Schools for example and the museum's decision NOT to use this word), and the protests related to missing and murdered Indigenous women occurring in Winnipeg and elsewhere across Canada very publicly at this time (both in fall 2014 when this photo was taken and now in 2015 as I write this). This photo here was taken at Parliament Hill in Ottawa. The blue and pink flags are meant to represent boy and girl unborn babies and were place there rather painstakingly by young school kids I would guess to be around 14 or so who attend a nearby Catholic school. I am all for silent protest and this one I will admit was incredibly eye catching - as the sun was setting the flags literally glistened in the sun light. Disturbing to me, however, was the use of children in a protest like this when the likely hood that one or more of the several young girls involved will fall pregnant at a young age given the basic Canadian statistics of pregnancy (or just the basic fact of life-type statistics - as in young pregnancy occurs in EVERY school and always has). Everyone once and a while I am still in shock that a woman's right to her body is STILL so heavily negotiated. I have so much more to say on this but will end it at that.
"Memorial within a Memorial" Ottawa, ON
Image Copyright JC Robinson
The Response, Canada's National War Memorial, is located in Ottawa and dedicated to fallen soldiers of World War I and II and the Korean War. My fieldwork for this project began in fall 2014, which coincided with the 100th anniversary of World War I. Many museums and gallery spaces were exhibiting materials related to this anniversary. This provided an unexpectedly rich layer of exhibition material related to human-rights issues present in war and conflict. I am thankful for how this material has pushed me to consider the role of the world wars in the development of Canada as a nation, particularly considering the role of Indigenous Canadians, Chinese Canadians, and Japanese Canadians in Canada's efforts during WWI and II, despite not being recognized as full Canadian citizens. This photograph gained additional significance for me because shortly after I left Ottawa in the fall of 2014, a terrorist attack happened in this location; Cpl. Nathan Cirillo was shot to death while guarding the Tomb of the Unknown Soldier, visible in the image. As I write this several years on, I am left to reflect on the everyday violence that is currently occurring in the world. My heart is heavy daily when I hear the latest list of hate-filled cruelty acted out across the world in the name of faith, culture, and fear. I am reminded time and again by world and local events of the continued need for spaces like museums to discuss and debate these events, as well as of the power of art and education to help heal the many heads and hearts of hurt and hate that exist in Canada and elsewhere. I remain optimistic in the potential for all of us to be better human beings. A choice of optimism, in times like these, seems the only logical way to be.
"From Across the River" Ottawa/Gatineau, QC
Image Copyright JC Robinson 2015
Located in Gatineau, the Canadian Museum of History is about a twenty minute walk across the Royal Alexandra Interprovincial Bridge from Ottawa. The bridge was constructed between 1898-1900 by the Canadian Pacific Railway and today exists as a major traffic route between two provinces.
"The Cardinal and the Library" Gatineau, QC
Image Copyright JC Robinson 2014
The CMH has had many lives.
The founding collection of the museum dates to 1856 as part of the Geological Survey of Canada funded by what was then the Province of Canada. While this strain of collecting began with geological, specifically mineral specimens, surveyors also began collecting objects from Indigenous communities and the Geological Survey of Canada held its first exhibition of Indigenous material in 1862-1863. By the late 19th century, the Geological Survey Museum was open to the public and responsible for collecting flora, fauns, and material related to human history in addition to mineral collections. To aid with this the Royal Society of Canada was established in 1882 to collect ethnological objects and by 1910 an anthropological department is created in the Geological Survey Society. The collection officially becomes the National Museum of Canada from 1910 to 1968, opening in the Victoria Memorial Museum Building in 1911 in Ottawa (now Canada's National Natural History Museum). In 1968 the museum became the Museum of Man and then transitioned again to become the Canadian Museum of Civilization when the museum moved into its current home across the Ottawa River from Parliament Hill in 1989 in the iconic building designed by Indigenous architect Douglas Cardinal (Canadian Museum of History 2016). In 2013 the Harper Conservative Government re-branded the museum as the Canadian Museum of History, a move met with much skepticism, not only for the costs associated with such a process at a time when the federal government has pulled or cut funding to many aspects of arts and culture, but towards the political motivations behind such a move that seeks to create a version of Canadian history or Canadian identity through the space of a museum that matches a political agenda (see Aronczyk and Brady 2015; Minsky 2014)
see: http://globalnews.ca/news/1425056/museum-spends-500k-on-re-brand-following-tory-mandated-name-change/).
The CMH provides quite a well documented history of the institution where these points were taken from: http://www.historymuseum.ca/about/#tabs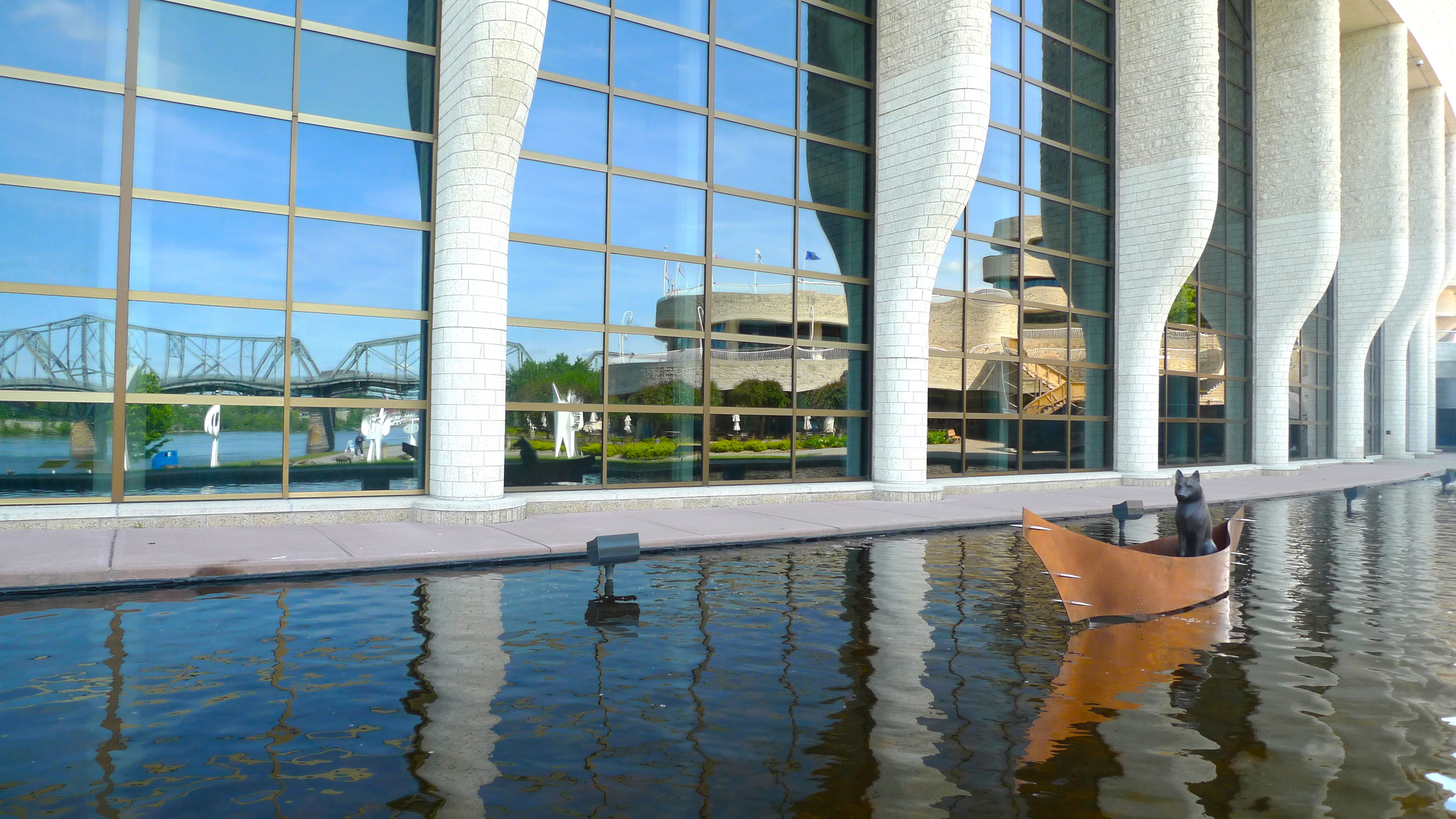 "Reflections" Canadian Museum of History, QC
Image Copyright JC Robinson 2014
"Your Country" Gatineau, QC
Image Copyright JC Robinson 2014
During my visit to the CMH in September 2014 (and my subsequent visit during the following June 2015) the Canada History Hall, one of the museum's major galleries and top attractions, was closed for renovations. This is a BIG undertaking by a national museum, not just because of the cost, or the thematic scope—curating an exhibition that covers the entire country from Confederation in 1867 to 2017 (the official opening date) seems like a daunting task—but also in the politics of inclusion and exclusion that come with an exhibition of this nature. Your Country, Your History, Your Museum - so whose history/histories get included? What stories are told and by whom? And in the case of my project, how are the difficult moments in Canada's past portrayed in a national museum exhibition and what partnerships are being created with community organizations in order to do so? Being able to speak with members of the research and curatorial staff early on in the developmental phase of this exhibition provided me with a valuable insight into just how difficult these tasks are for staff but also revealed just how much harder it is to tackle particular subject matter in a national gallery. There is simply not the time or the space and this sense of lacking is one of the major limitations of any national gallery. Like the idea of nationalism itself, not everyone has a place, or feels they are welcome, or feels their story is told accurately. It does not mean that certain staff aren't trying—in fact, an everyday challenge when working in galleries of this side, is this knowing, is having this awareness of this sense of lacking, and in facing the reality that these limitations are in a sense, unavoidable.
"Panel One" Canadian Museum of History, QC
Image Copyright JCRobinson 2014
"Panel Two" Canadian Museum of History, QC
Image Copyright JC Robinson 2014
The history of Indian Residential Schools (IRS) has appeared as a subject in many museums across Canada for quite some time, though most often as part of a larger exhibition theme devoted to a general history of Indigenous histories in Canada or settlement history of Canada. Based upon my exhibition viewing, historical photographs that depict IRS have come to dominate the presentation of this material. One such photograph, seen here, is that of a young Cree man named Thomas Moore. Images of his physical transformation from attending the Regina Indian Industrial School in the late 19th century has been widely used in museums and academic publications to illustrate the very visual effect of IRS on the Indigenous body. The picture presents a striking contrast. However, while the placement of such information is essential in positioning the experiences of Indigenous peoples in Canada, small exhibit panels are not necessarily the same as a full exhibition devoted to the experiences of IRS as told through the stories of those who have lived through IRS in their families and communities.
"The Next Ten Years" Canadian Museum of History, Gatineau QC
Image Copyright JCRobinson 2014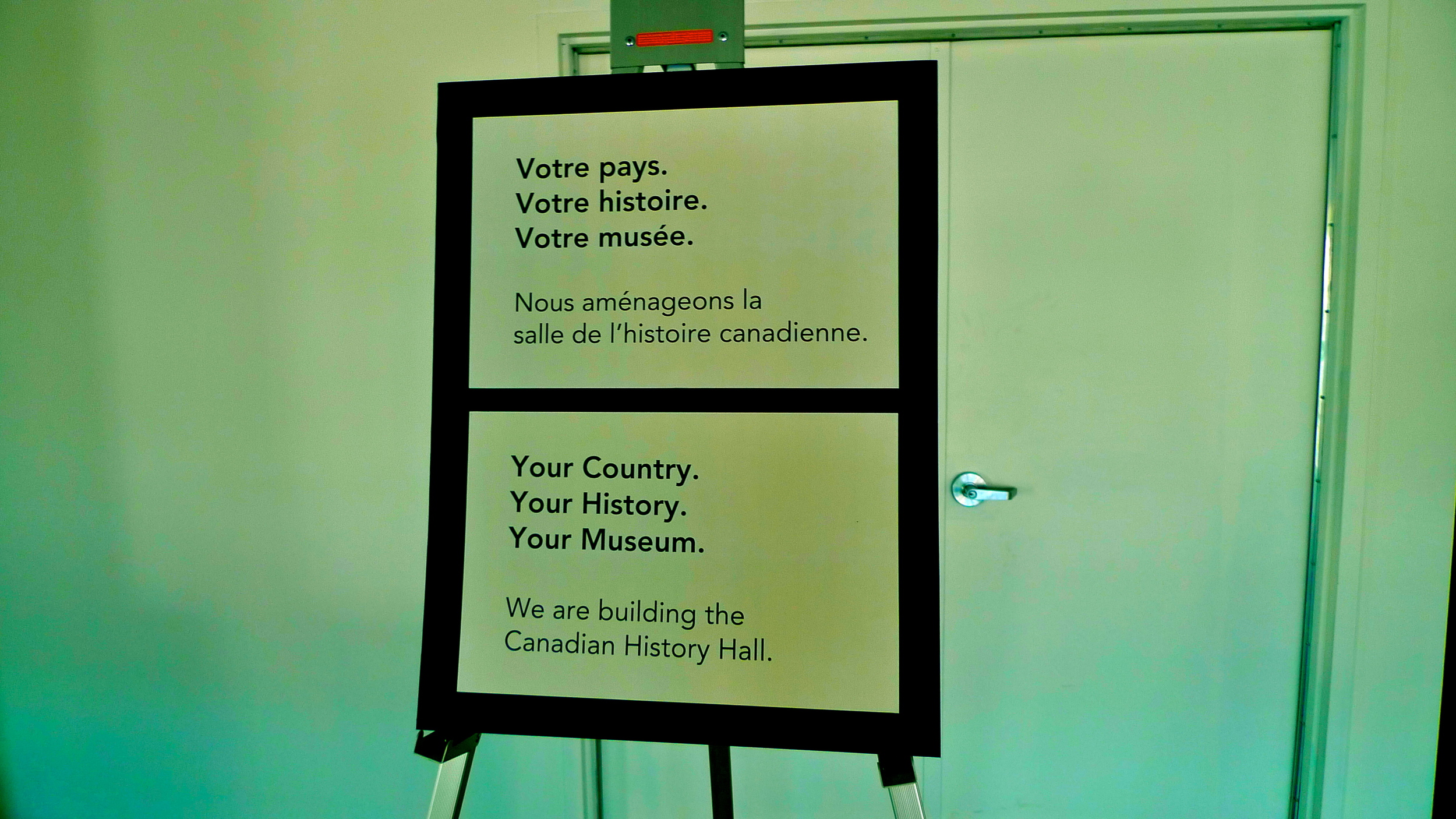 "We are Building" Canadian Museum of History, QC
Image Copyright JC Robinson 2014
Like many museums built or renovated during the 1990s, the old Canada History Hall at the CMH made use of large dioramas and reproduction models of moments of Canada's past. The gallery moves visitors through a timeline that tells of the creation of Canada from the first arrivals of Europeans moving across Canada from the Atlantic to the Pacific, and ending in the North. The message delivered through the exhibition was of a unified version of Canadian Confederation where any sense of conflict is glossed over in the celebration of a united and multicultural country. Gordon-Walker (2016) rightly highlights how government-sponsored acts of displacement, discrimination, and assimilation were presented as acts that occurred in the past and were situated in the exhibition to demonstrate how far Canada had progressed as nation to become a state characterized by equality. Though the museum has been criticized for how the gallery lacked any critical depth in the exhibition and for the use of too many models and reenactments (Dean and Rider 2005), my participants shared with me how many of the staff and visitors frequently expressed how much they have enjoyed this space. The old Canada Hall was by all accounts, a popular tourist attraction. As such my participants shared the difficulty they have had in dismantling an exhibition that has been a successful part of the museum experience for the last 20 years.
"Your Country, Your History, Your Museum" CMH, QC
Image Copyright JC Robinson 2014
The CMH will open the new Canada History Hall on July 1st as part of Ottawa's larger Canada 150th celebrations (Fig. 24). Thus, the timing of the completion of this dissertation coincides with the opening of the new gallery. At the time of my interviews, staff at the CMH were very careful not to disclose what themes, stories, or historical moments would be in the gallery and what would not be returning to the gallery from the previous exhibition. The three apologies that have guided this research were part of the old gallery and will all be present in the new Canada Hall after having been re-researched and re-crafted to present these apologies in new ways in the content of Canada in the 20th century. I was told that several consultations had taken place with various cultural community partners to develop content for the gallery, including for the apologies. From my own conversations with David Morrison, the head of Research for the new gallery, conversations began with Andrea Walsh and the Residential and Indian Day School Art Research Program (RIDSAR) at the University of Victoria about how Survivor stories from this group could help tell the stories of residential schools in the Canada Hall. A major finding of my research points to the importance of these institutional partnerships between smaller projects or museums such as RIDSAR and large, national museums with regards to working with difficult histories.
More can be read about the RIDSAR project, including the trip a number of us took to Ottawa to work with the CMH as well as my own involvement with this project: http://www.ajacketfullofstories.com/#/ridsar/
"THE Canadian War Museum" Ottawa, ON
Image Copyright JC Robinson 2015
While in Ottawa I also visited the Canadian War Museum. The current CWM opened in 2005 in Ottawa in the area known as LeBreton Flats. The CWM is part of the Crown Corporation made possible through Canada's Museum Act that also includes the CMH, the Canadian Postal Museum, the Canadian Children's Museum, and the Virtual Museum of New France. Like the CMH, the CWM draws its roots from the late 19th century and the start of a collection based on military items, some 3 million in number. I was not fully aware of just how much the CWM and the CMH share as institutions in terms of resources until I undertook this research project. Many of the interpretive planning, design, and curatorial teams from the CWM, including their former Director, have come on board to help create the new Canada History Hall. Since its opening, the CWM is considered one of Canada's most successful museums with a steady number of visitors every year. The building itself has also garnered much praise architecturally. The architect for the CWM, Raymond Moriyama, was interned along with his Japanese Canadian family during WWII and he acknowledges these experiences in his own process of design development (see In Search of Soul 2005).
A documentary was made on Moriyama's design dream and the building of the CWM:
https://www.knowledge.ca/program/search-soul-building-canadian-war-museum
"Might Find Disturbing" Canadian War Museum Ottawa, ON
Image Copyright JC Robinson
There are many reasons that I chose the CWM as a field site. However, the main overarching reason is the theme of the museum itself—war. Museum staff here constantly deal with difficult or troubling material as part of their museological practices. Every exhibition or research project is in some way related to war, and while there are many positive stories about war efforts, home front experiences, victories, and peace projects—there are more stories of violence, hate, destruction, and death. I was curious if and how staff here processed this aspect of their work. Many members of the curatorial staff at the CWM are military historians. For some this provides a distance from the period they specialize in given time that has passed. For others, this means that there is still a community of veterans, the family, or descendants of vets, or those who have experienced conflict first hand who form part of the community that heritage professionals are responsible to consult
"The Trench" Canadian War Museum, ON
Image Copyright JCRobinson 2014
In addition to temporary gallery spaces, the CWM has four main permanent galleries: Early Wars in Canada; The South African and First World Wars; World War II, The Second World War; and From Cold War to the Present. These galleries focus on the Canadian experience at war, both overseas and on the home front. The galleries use objects, large-scale multimedia, sound, artwork, personal narratives to take visitors through various war efforts in which Canadians have taken part. Veterans occasionally work as tour guides within certain exhibitions giving first-hand accounts of their experiences. The picture here (Fig. 27) is from the WWI gallery and is a mock version of a trench. There are several re-enactment spaces in the CWM and as I was walking through this particular one I was struck by how eerie these spaces can be. There was a strange moment where I was caught somewhere between my own historical reflection of this time and just how distant I am from this reality. This was made especially clear during one of my visits when I entered this space behind a young woman who was taking selfie photographs in the trench. This moment was somewhat of a stark reminder of how museums are somewhat of an in-between space. For me it was space that verged on the real; reminded me of how fortunate I am and yet how distant from the realities of war I live my life. For others, it is so hard to even speculate. For those who have lived a life knowing only peace in homelands, perhaps the distance is part of what we are meant to feel. To be reminded of our freedom.
"Bullets" Canadian War Museum, ON
Image Copyright JCRobinson 2014
Given the difficulty of the material the staff of the CWM deal with, it is perhaps not surprising that there were a few exhibitions in my interviews that stood out as being particularly challenging in terms of content and provided a learning experience in terms of strategies that were developed to work with in the future. The two previous photos are examples of this. War and Medicine had exceptionally graphic content in terms of visual imagery throughout the exhibition. Large photographs containing medical procedures developed during times of war were placed on the walls along with early medical tools and technological advancements. The gruesome nature of the content was a point of reflection for the staff, with many noting the difficulty of absorbing such visually disturbing images.
The second exhibition had an even more profound impact on those I interviewed: Deadly Medicine. This was an exhibition about the eugenics movement and was identified as being one of the most difficult projects any of those I interviewed had worked on, given the sheer brutality of what this movement stood for. It was clear from my interviews that exhibitions like these stand as influential sites for the development of new methodological practices, for the very nature of the content requires staff to build training procedures to manage how both staff and visitors engage with the material.
"Forced Relocation" Canadian War Museum, ON
Image Copyright JC Robinson 2014
Part of my interest in the CWM also had to do with how the story of the Japanese Canadian Internment during WWII fit into the larger story of Canada and Canadians at war. Though far from a prominent feature in terms of exhibition capacity within the WWII gallery space, the initial design of the section of the gallery devoted to this topic proved to be an example of how small-yet-powerful physical design decisions have very real impacts on the message being delivered in a gallery. When the gallery initially opened, several members of the larger Japanese Canadian community protested how the Japanese Canadian Internment was positioned within the larger exhibition space. All the permanent galleries in the CWM have long weaving corridors that take visitors chronologically through the start of the conflict featured in the gallery through to the end. In the case of the WWII gallery, the small exhibition space devoted to the Internment is placed directly across from a mannequin model of a fierce Hong Kong solider and an exhibition display about the danger to North America of the invasion of the Pacific and the ruthlessness of war tactics from peoples from this area was. The experience of the layout of this part of the gallery would become the site of protest by many Japanese Canadians.
"Location of Reclocation" Canadian War Museum, ON
Image Copyright JCRobinson 2014
The Japanese Internment exhibition then leads directly into the entrance of the "At Home" gallery space (seen towards end of this image). When the gallery initially opened, there was a Japanese flag projected across the floor, which physically had to be crossed by gallery visitors to proceed through this portion of the gallery into the "At Home" exhibition space. For protestors of the exhibition, this experience of walking through the space and seeing the discussion of the Internment, labeled as "Forced Relocation" rather than "Internment," was unsettling. The exhibition panels contained no discussion of the fact that there were many Japanese Canadians who fought for Canada against Japan. This omission of this fact and the placement of the story of Japanese Canadians near the Hong Kong solider set a tone, as I was told, that excused the Internment of Japanese Canadians by the Canadian government. The protests from the community resulted in the exhibition being altered slightly. The flag was removed, proving the power of community voice and importance of community consultation during the design phase of an exhibition. This example also illustrates the power that national galleries have in creating messages about Canadian nationalism through the very structure of their exhibitions.
"Enemy Aliens" Canadian War Museum, ON
Image Copyright JCRobinson 2015
Coincidences are strange things. In addition to my research phase starting alongside the opening of the Canadian Human Rights Museum, my project also coincided with the summer that marked the 100th anniversary of the start of World War I in July 1914. Many of the museums I visited during this first portion of my field work displayed exhibitions related to this marking of time. This included not only the institutions that I officially had in my project for analysis, but also many exhibition spaces in the cities I was visiting. With this historical presence surrounding my journeys, in some cases very vividly through visually striking and at times gruesome exhibitions, the marking of this anniversary came to influence my thinking about challenging subject matter in profound ways. Through the visual medium of photography and later film, early 20th century war and conflict is brought closer to the present, even if many of the survivors are no longer present to share their experiences first hand. Archival visual material from this period has a way of drawing the viewer in and marking the imagination in profound ways. It was the advancements in visual technologies that brought World War I "home" to Canadians for the first time like no other large-scale conflict. With this anniversary came the chance for galleries to revisit, or take on for the first time, new aspects of WWI. For example, the CWM had small exhibition called Enemy Aliens: Internment in Canada 1914-1920, referring to the over 8,000 people, primarily of Ukrainian decent, who were forcibly interned in various camps across Canada through the War Measures Act in Canada. The WWI Internment period in Canada has also resulted in federal apologies to present day descendants of Italian and Ukrainian immigrant communities in Canada (CWM n.d.).
The CWM also provides information on this period of time via their webpage: http://www.warmuseum.ca/firstworldwar/history/life-at-home-during-the-war/enemy-aliens/the-internment-of-ukrainian-canadians/
"Vistor Thoughts", Canadian War Museum, ON
"Contemplation" Canadian War Museums, ON
Image Copyright JCRobinson 2014
The Memorial Hall at the CWM is home to a small narrow space with a single window (Fig. 34) where light shines at an angle on Remembrance Day, November 11th. In a beautiful feat of engineering, the rays illuminate the sole object in the room: the headstone of the tomb of the unknown soldier. Several people I spoke with mentioned the importance of having a physical space where visitors can sit and mentally and emotionally absorb what they have experienced in the galleries. In some circumstances this may be space with the affordance of a couch, bench, or series of chairs. Other examples include specific design features such as an outside garden. These spaces recognize the ability for visiting museums or gallery spaces to fully impact our whole senses. Processing challenging material can, and should be, physical and emotionally exhausting. It should require a moment to step back and process how this experience affects us, and if it does, why? I take a closer look at the responses to these spaces by my participants in Chapter 3 in the context of how to decompress after viewing exhibitions with challenging subject matter.
"UBC Museum of Anthropology" Vancouver, BC
Image Copyright JC Robinson 2016
The Museum of Anthropology (MOA) at the University of British Columbia in Vancouver was my next field site. This institution is special on a personal level as I completed my undergraduate at UBC in 2009 in Anthropology and History, with a specialization in museum studies. I also worked at MOA for three years as a student, and later an intern in the Education and Public Programming Department. With friends, mentors, and now research participants at MOA, conducting interviews here gave me more of an appreciation for collecting data at a field site that is also, in many ways, my own community. The interviews I conducted here were more intimate than those at other institutions. I know that, given my friendships and previous work relationships, my research participants shared a great a deal with me, and our conversations carried a certain depth given my knowledge of the workings of the institution. As a university museum, the origins of MOA's collection dates to the early part of the 20th century when many objects collected from the across the Pacific Islands were donated to UBC by collector and explorer Frank Burnett. However, the museum itself grew out of the work of Harry and Audrey Hawthorn, who came to UBC's Anthropology department in the 1950s to begin documenting the lives of Indigenous peoples in British Columbia on behalf of the Department of Indian Affairs (Hawthorn 1993; Levell 2009). Many of the connections fostered in the 1950s between MOA staff and families or communities across BC remain today, and these long-standing relationships are at the core of MOA's history.
"Remember Your Teaching" Museum of Anthropology, Vancouver, BC
Image Copyright JCRobinson 2014
One example of longstanding working relationships is MOA's relationship with the Musqueam First Nation. Since the 1980s, MOA has followed guidelines negotiated with Musqueam and MOA regarding the proper ways to store, handle, and design exhibitions using their material heritage (Phillips 2000, 2011). This relationship was formalized under the Directorship of Ruth Phillips (1997-2003) with the signing of a Protocol, which Phillips declares, "rebalanced" the power dynamics in the institution (Phillips 2000: 177). By establishing this Protocol MOA recognizes not only Musqueam's traditional unceded ownership over the territories where UBC and MOA reside, but also this Protocol acknowledges that Musqueam territory spans a large portion of the area of what is now today Vancouver (Phillips 2000). January of 2010 marked the celebration of MOA's grand re-opening after an extensive renovation project titled "A Partnership of Peoples" made possible in large part (though other major donors also contributed) by a successful application to the Canadian federal government funding program for non-profit organizations called the Canada Foundation for Innovation in 2000 (Phillips 2011). Several major changes came from this renewal project. Highlights of the project include: the Centre for Cultural Research, complete with a library, archive and laboratories for oral history documentation and archaeological analysis; a new temporary exhibition gallery; the reconstruction of MOA's international permanent galleries formally known as Visible Storage into the Multiversity Galleries; the creation of an online collections database that can also be access through computer systems set up in the new visible storage space; and the beginning of the Reciprocal Research Network. This collaboratively constructed database links the collections of over 14 museums with Indigenous community members, cultural centres, academics, and other museum and art professionals to create digital, collaborative work spaces on collections of objects, particularly Indigenous objects from across North America.
"Transformation 201O Joe Becker, Musqueam" Museum of Anthropology, Vancouver, BC
Image Copyright JCRobinson 2014
The renewal of the museum also gave staff the opportunity to redesign the front entrance way to more explicitly acknowledge the Musqueam peoples, whose traditional and unceded territories MOA and UBC stand on today. A Musqueam welcome (previous image), and a newly commissioned artwork by Musqueam artist Susan Point (next image) are just two of images which show the Musqueam presence at the Museum's entrance.
"Salish Footprints 2010 Susan Point, Musqueam" Museum of Anthropology, Vancouver, BC
Image Copyright JCRobinson 2014
"A Moment of Reconciliation" Museum of Anthropology, Vancouver, BC
Image Copyright JCRobinson 2014
This photograph is taken inside MOA's Multiversity Galleries, the name given to the redesigned visible storage space where 10,000 objects from MOA's collection are visible. The history of this case began when curator Carol Mayer received a phone call from a potential donor who was the wife of one of the distant relatives of John Williams, an English Reverend murdered on the shores of Erromango, a provincial island of Vanuatu, in 1839. The donor was looking to give objects that were collected by Williams during various missionary expeditions throughout the Pacific (Mayer 2009). It would have been possible in this circumstance to simply accept the donation; however, Mayer chose to approach the situation and the history of these objects differently. This began an extensive dialogue between Mayer, the Williams family, and Ralph Regenvanu, the Director of the Vanuatu Cultural Council, about the possibility of trying to reconcile the history of this collection. There are several examples of "sorry ceremonies" occurring in various parts of the Pacific, which take place between contemporary communities to reconcile with past atrocities that occurred during the colonial period (Mayer, 2009: 7). After much discussion, all parties involved agreed to take part in a sorry ceremony to be held on the 170th-anniversary of the death of John Williams (Mayer, 2009). Mayer traveled with 17 members of the Williams family to Vanuatu to witness an emotional re-enactment of the death of Williams that resulted in new positive memories, the joining of families, and most importantly mutual forgiveness for the actions of the past. Reconciliation is at once a term, process, and series of actions. The work presented in this case is but one small example of many forms of reconciliation currently underway with regards to colonial history at MOA. It highlights the potential for museum work to help with these processes.
"Speaking to Memory" Museum of Anthropology, Vancouver, BC
Image Copyright JCRobinson 2013
In Canadian museological history, MOA has garnered a lot of attention for developing progressive museum practices in Canada, particularly with respect to building better relationships with Indigenous peoples and implementing the guidelines of the Task Force into practice early after its development. However, two exhibitions stood out to me in terms of why I choose to include MOA in this project. The first was the 2011 exhibition The Forgotten that was cancelled prior to installation. This exhibition was composed of Vancouver artist Pamela Masik's very large and gruesome paintings of women, primarily Indigenous women, that had gone missing or been murdered from Vancouver's Downtown Eastside community. From early in planning stages, the exhibition fell under heavy protest by several community groups, primarily from the DTES, because the paintings were seen to be re-traumatizing to the women and families of the women who have disappeared. Though the fallout of this exhibition both was covered by the media and academic scholarship (see Moss 2012; Pinto 2013b), these reviews failed to account for any sense of what MOA had learned as an institution from this experience. I highlight further in my dissertation, how in the wake of the exhibition being cancelled, MOA had to take a step back to reconnect with various community members from the DTES who, along with MOA staff and UBC faculty members, shared a series of group discussions concerning what the issue of missing and murdered women in Canada, but also how MOA could have approached this work differently.
"Memory Speaks" Museum of Anthropology, Vancouver, BC
Image Copyright JCRobinson 2013
The second exhibition Speaking to Memory, Images, and Voices from St. Michael's Indian Residential School opened at MOA Sept. 18, 2013 to coincide with a visit by Canada's Truth and Reconciliation Commission to Vancouver. The exhibition was based on a series of photographs recently donated to the MOA archives that were taken by a young girl who attended St. Michael's Indian Residential School in Alert Bay, BC during the 1940s. Curator Bill McLennan sat with many former students from this school with the collection of photos and recorded, if they were interested, Survivors' memories from their time at the school. The narratives from these interviews are part of the exhibition, with excerpts from these forming quotes on the wall and the full text in binders that were displayed on a long table in the exhibition space. Excerpts from earlier interviews with Survivors that were conducted by the U'Mista Cultural Centre in Alert Bay in the 1990s were also used. The photographs in the exhibition were mounted with a translucent cover so that names could be written on the photos by visitors to the exhibition who knew and recognized themselves or children in the images in an act of reclaiming their unknown presence from the archive through this act of public remembering. The daughter of the photographer worked with her mother to name as many of the children in the photographs prior to exhibiting them.
"The Mixer", Museum of Anthropology, Vancouver BC
Image Copyright JC Robinson 2013
As a researcher, I am drawn to the study of material and visual culture. As a branch of anthropological investigation, research conducted under this umbrella has provided valuable ways for thinking about the connection between the material and immaterial world and the value that "things" can have in our lives (Miller 1998). I was curious throughout this project to assess the role of objects used in exhibitions that have direct histories to acts of violence and discrimination and to hear my participants' reflections on objects that were chosen to be used. The industrial mixer, from the St. Michael's school is perhaps one of the most powerful that I encountered during this study. As I take up more fully in my dissertation, its inclusion in the exhibition illustrates the potential for objects in exhibition spaces to evoke feelings of empathy, confusion, anger, and sadness in visitors. The baking mixer's massive size and its presence is striking in a gallery context. The mixer was operated with no protection by many young children who were forced to work at St. Michael's, as was the case at all Indian Residential Schools. Many Survivors interviewed by curator Bill McLennan reflected on the danger of the mixer; how it constantly gave out electric shocks and harmed the young girls who worked in the kitchen. The physical presence of an object such as this provides an additional layer of depth while walking through the exhibition to the experiences encounter by Indigenous people while at these schools. Placed in a small hallway within the exhibition, the space created an overwhelmingly visceral place for contemplation and reflection; once inside it became impossible not to visualize this object in use.
"Outside Inside" Museum of Anthropology, Vancouver, BC
Image Copyright JC Robinson 2013
The exhibition also included large photographs taken of inside St. Michael's by McLennan after the building was no longer in use. The photographs are windows into the empty hallways and staircases that are blanketed in the green-yellowish hue of years passed. The materiality of these photographs draping the walls added such an eeriness to the exhibition space. They provide, like the mixer, a layer of material and visual depth to the exhibition that takes the visitor into the space of St. Michael's in a visceral or emotive way. Quotes from Survivors or policy laid forth in the Indian Act were added to several of the photographs to juxtapose the words with images of the school itself. The exhibition moved up to Alert Bay and was held at the U'Mista Cultural Center in 2014. Many of the large photographs were mounted on to the walls of these school itself. Here again, the photographs created a powerful haunting presence of the hallow hallways and staircases inside of the building as they were plastered on the brick walls of the school before it was demolished in February 2015
"Private Comments" Museum of Anthropology, Vancouver BC
Image Copyright JCRobinson 2013
In the exhibition, there was also a large table where visitors could spend time looking through photo albums and reading the full text of Survivors' stories. They could also take the time to write a comment or reflection to leave in the comment box or in a public comment books. There was also a large black board where visitor thoughts could be written down even more publicly. Education Curator Jill Baird took photos of the board, comment books and the private responses every few days. Though many of the responses acknowledged the exhibition as being a good site of education for information about residential schools, many were also negative and discriminatory, pointing to a need as discussed through my dissertation, for spaces such as museums to house exhibitions of the nature to continue build awareness of these histories.
"Chinese Canadian Military Museum", Vancouver, BC
Image Copyright JCRobinson 2014
My next stop in Vancouver was the Chinese Canadian Military Museum (CCMM). The CCMM is the smallest museum I spent time visiting. It is located on the top floor of the Chinese Canadian Cultural Centre in Chinatown in the east side of Vancouver. The Museum is run entirely by a rotating group of volunteers from the Chinese Canadian Military Museum Society, founded in 1998 with funds provided in large part by private contributions from the Chinese Canadian community in Vancouver. It is a unique museum in that it specializes in Chinese Canadian contributions to the Canadian war effort, particularly to World War I and II. Given this curatorial focus, the museum works with Chinese Canadian War veterans and their families to ensure their histories are recorded and material items from this time collected (CCMM 2016).
See further Chinese Canadian Military Museum http://www.ccmms.ca/about-us/
Additionally a number of great online resources have been created to study Chinese Canadian history through digital archives:
UBC's The Chinese Experience in British Columbia 1850-1950 http://www.library.ubc.ca/chineseinbc/index.html
Chinese Artifacts Project https://ccap.uvic.ca/index.php/
"Chinatown" Vancouver, BC
Image Copyright JCRobinson 2014
The CCMM was one of the institutions that made me think about the physical existence of cultural institutions within the city. This area of the city has held a fascination for me since first moving to Vancouver in 2005, and I have spent a lot of time walking the streets of the Downtown Eastside community where Vancouver's Chinatown is located. The east side of Vancouver, located in the traditional territories of the Coast Salish peoples, is historically where many immigrant communities settled in the 19th century, including early Chinese and Japanese settlers. Today Chinatown carries the presence of the early Chinese immigrants who came to Canada to find a better life for themselves and for their families. For some, this was during the gold rush of the 19th century; for others, this was for employment building the Canadian Pacific Railway. After completion of the railway, a head tax was placed on Chinese immigrants in 1885, which remained in place until 1924. From 1923-1947 the Chinese Immigration Act, also known as the Exclusion Laws, was put in place, restricting immigration to Chinese possessing certain skills. These laws effectively made it impossible for families to remain together and many Chinese men who came to Canada remained separated from their wives and children until after 1947 (Li 2008, Mar 2008; Yu 2001).
"Riots and Rights" Vancouver, BC
Image Copyright JCRobinson 2014
While walking the streets of Vancouver's Chinatown, I was conscious of the connections between culturally designated spaces in many cities across Canada, a point I take up further in my dissertation. Chinatowns across Canada grew out of policies of discrimination and segregation; in the late 19th and early 20th centuries Chinese were not welcome to live in many parts of Canadian cities and their employment and educational pursuits were restricted (Li 2008; Yee 2005). The walls of Chinatown, as one of my participants explained to me, created a place that was safe and welcoming while providing a barrier from the discriminations inflicted from the surrounding European settler communities. Discrimination that, in many cases throughout Canadian history, erupted in violence, such as the 1907 riots in Vancouver's Chinatown, where many businesses, including this building, were damaged.
"Dr. Sun Yat-Sen Classical Chinese Garden" Vancouver, BC
Image Copyright JCRobinson 2014
The CCMM and the Cultural Centre are framed around the beautiful Dr. Sun Yat-Sen Chinese Classical Garden. The Garden, modeled after the classical garden tradition popular during the Ming Dynasty in China, was built during the mid 1980s through the efforts of the Dr. Sun Yat-Sen Garden Society. The creation of the Garden was an effort to build connections between Chinese and Euro-American cultures, while also serving as a part of the Chinese Canadian community in Vancouver. Like the cultural centre and the museum, the Garden is a physical marker of Chinese Canadian presence in this part of the city (Dr. Sun Yat-Sen Garden Society of Vancouver 2015).
"中山公園", Vancouver, BC
Image Copyright JCRobinson 2014
"Permanent Display"Chinese Canadian Military Museum, Vancouver, BC
Image Copyright JCRobinson 2014
The exhibition space at the CCMM is quite small. The hallway seen here forms part of the semi-permanent exhibition area. A small room towards the end of the hall is serves as temporary exhibition space. Beside the hallway is an art gallery run by the Cultural Centre which forms a large part of the second floor and that also serves as an event space. In this sense, the CCMM collection and exhibitions are embedded into the larger context of Chinese Canadian culture within the building, and the exhibitions are encountered by the community on a frequent basis given their location in such an active community space. The semi-permanent gallery area, which has altered since the taking of this photo, is a place for the material collection to be shown. Given the small funding available to the museum, displays are quite simple in design. Here cases of medals achieved by certain veterans are shown alongside the biography and photograph of the veteran.
*This part of the exhibition area has been modified since 2014 when this photo was taken as a new curator has come on board post my interviews.
"Exhibition Room" Chinese Canadian Military Museum, Vancouver, BC
Image Copyright JCRobinson 2014
The CCMM has a small temporary exhibition space with exhibitions that rotate roughly every year. Though the exhibition space is small, it functions as a physical place to juxtapose the experiences that Chinese Canadian vets had while at war with the experiences they encountered once they returned in Canada. When Chinese Canadians served in WWI and WWII they did so without being considered Canadian citizens. It was not until 1947 that Chinese Canadians could receive citizenship and Exclusion Acts were lifted, allowing families that had been separated through these laws to be reunited. The timeline of these events can be traced through the computer portal that is a permanent fixture in the gallery. During my visits the gallery was featuring an exhibition on Chinese Canadians who fought in WWI given the anniversary of the start of the War was in the fall of 2014.
"Rights to Citzenship" Chinese Canadian Military Museum, Vancouver, BC
Image Copyright JCRobinson 2014
This large photographic reproduction of the image of three women receiving their citizenship strongly illustrates much of the intent of this museum and the focus of many of the exhibitions. When veterans returned to Canada after WWII and fought for enfranchisement, it was the Chinese Canadian war effort during the early 20th century that laid the foundation for those of Chinese ancestry to be accepted as citizens of Canada. The fight for equality is the message in this exhibition space. The stories of veterans are celebrated alongside the rights of Chinese Canadians. In early 2017, the CCMM organized a walk through the east side of Vancouver that included several veterans and Indigenous community members to celebrate the 35th anniversary of the Canadian Charter for Rights and Freedoms (see Ryan 2017). Though the museum itself is small, how the war effort was directly connected to the fight for equality in Canada is a message that is strongly delivered in the exhibitions, programming, and events that the museum takes part in.
"Marking the Streets" Vancouver, BC
Image Copyright JCRobinson 2014
"Chinese Canadians and WWII" Vancouver, BC
Image Copyright JCRobinson 2014
With the museum's placement right in the heart of Chinatown, the museum is also heavily involved in community related activities. An example of this was a ceremony that I attended in November 2014 honouring the Chinese Canadian war effort and acknowledging the surviving War Veterans. This beginning of this ceremony took place at the Chinese Canadian war memorial located across the street from the museum. As part of the history of rights issues in Canada, war memorials mark the heritage landscape as physical sites to gather and remember and this act of gathering creates a sense of collective memory about this time in Canadian history and the experiences of those that endure it.
*Interesting critique of the monument from 2010 article in the Vancouver Observer: http://www.vancouverobserver.com/politics/commentary/2010/06/04/location-monument-chinese-canadian-veterans-ineffective
"Chinese Canadian World War II Vets" Vancouver, BC
Image Copyright JCRobinson 2014
The second part of this ceremony took place over dim sum at a near by restaurant, an event that I was honoured to be invited to join. I was reminded here of what a community the museum has created. Those I interviewed shared stories with me of checking in on vets, helping them with errands, and making sure they are connected to the larger community of Chinese Canadians for events and special occasions. The CCMM, as one of my research participants historian Henry Yu reminded me, first and foremost exists for the community. It is not heavily advertised, or easy to see from the street. It is not drawing in huge visitors or created exhibitions that stretch out of the main focus of the institution. The exhibitions produced, material objects collected, and the oral histories recorded, all come together to create an important record of Chinese Canadian experiences during the Canadian war effort in the early 20th century.
"Nikkei National Museum & Cultural Centre" Burnaby, BC
Image Copyright JCRobinson 2014
The Nikkei National Museum and Cultural Center in Burnaby, BC is an interesting example in Canadian museological history as it was created directly from compensation received from the Japanese Canadian redress process that took place from the 1970s into the 1980s. In 1988, the redress movement resulted in the government's acknowledgment and apology for the Internment of Japanese Canadians during the 1940s. The museum and cultural centre were conceived as a place to have exhibitions, hold community events that focus and celebrate Japanese heritage, and exist as an archive of the Internment period. This included actively recording the oral stories of elders in the community, collecting photographs, ephemera, and objects, and serving as a research center for projects and activities related to Japanese Canadian history (Thomson et. al 2002).
I was conscious that Nikkei Centre is part of a heritage network that links the museum and cultural centre with places such as Hastings Park in east Vancouver where Japanese Canadians were first held after being forced from their homes. In this sense, the Nikkei Centre is also connected to the many Internment sites across Canada, such as New Denver, where one of my participants was working at the time of our interview. As I discuss further in my dissertation, this network also serves to link the staff and community partners together to draw on the experience of the network to research and educate about this history in Canada's past.
"TAIKEN" Nikkei Cultural Centre, Burnaby, BC
Image Copyright JCRobinson 2014
The primary focus of the exhibitions created at the Nikkei Museum is to tell of the history of Japanese Canadians and their communities in Canada. Re-Shaping Memory Owning History: Through the Lens of Japanese Canadian Redress, the inaugural exhibition curated by the Nikkei Centre's first Director and Curator Grace Eiko Thomson, opened in September 2000 in what was then called the National Nikkei Heritage Centre. The exhibition focused on the experiences of the Internment and of seeking redress using a mix of narratives from survivors, poetry, photographs, newspaper clippings, and government documents (Thomson 2000). It was the first exhibition in Canada to share the Internment experience through the voices of the Japanese Canadian community. When the exhibition closed in 2001, it moved to other locations in Canada before returning to the Nikkei Centre to form part of the exhibition TAIKEN. The museum has since then focused their exhibition content to include exhibitions that continue to tell the story of internment through multiple perspectives. Examples include what happened in the time after the internment, how the experiences of children differed then adults, the quest to rebuild communities despite ongoing forms of discrimination, and the processes of working on redress.
TAIKEN is a permanent exhibition that grew from the inaugural Reshaping Memory exhibition. It is primarily text and photography-based with large replicas of government documents and newspaper articles. Several large black and white photographs are situated along with texts and timelines along the hallways and around the doorways of the second floor of the Nikkei building. Though simple in design TAIKEN tells the story of early Japanese settlement in Canada, the Internment process, and the fight for redress from the 1950's onward. It is an exhibition that tells of the experience of Japanese Canadians in Canada. The upstairs of the Centre has classrooms for teaching, meeting rooms, and offices for staff. In this sense, as children attend Japanese language classes, the story of their ancestors blankets the hallways as a reminder of what occurred in Canada's past. The exhibition wraps the upstairs of the Center somewhat poetically, in the story of redress.
"Clear Abuse of Human Rights" Nikkei Centre, Burnaby, BC
Image Copyright JCRobinson 2014
This photo is part of the permanent exhibition TAIKEN. This exhibition panel was the only time in all my travels that I saw the phrase human rights incorporated into an exhibition—aside from obvious thematic exhibition material in the Canadian Museum for Human Rights. I incorporate reflections on this phrase by my participants in Chapter 5 of my dissertation, as it was curious to me to note how little the phrase was utilized in exhibitions dealing with rights-based issues.
At the onset of this project I had not really factored in the significance of whether this term was being used, however asking my research participants to reflect on this phrase and the use of this phrase in an exhibition resulted in some interesting and varied responses. Most I interviewed felt it seemed too obvious, too political, or too cloaked in the rhetoric of the United Nations. For some, they has not really thought of it, or considered that particular exhibition work might be, in fact, human rights work, though upon reflection most agreed that was in fact what a number of curatorial projects are. It is worth noting that because the term is associated with these international doctrines where what rights are and who gets to decide are some how set aside from those involved in the fight for equal rights, most I interviewed felt it unnecessary or uncomfortable to label work "human rights".
"Paueru-Gai" Vancouver, BC
Image Copyright JCRobinson 2014
Unlike the CCMM, the Nikkei Museum is not located in the Downtown Eastside of Vancouver. There is an area around Powell Street, known to the Japanese community as "Pauera-Gai," where the original community of Japanese settlers was established in the late 19th century. People I spoke with offered both positive and negative reflections on this location. Given that space is limited in the inner city and parking is increasingly difficult to find, the location of the Nikkei Centre in Burnaby, with ample parking and a large building, means the centre can accommodate community events, exhibition openings, markets, and large crowds for various programming events. However, not being physically present as an institution in the Powell St. area of downtown where the Japanese community once was located means that much of the work to remember and re-establish this physical presence is done by distance. As much of Vancouver's Downtown Eastside undergoes processes of gentrification there is fear that both Chinatown and the former "Japantown" will disappear. As buildings in the area degrade, the question of what gets preserved in the name of cultural heritage and what is slated by the city for demolition are the focus of heated debates in the context of Vancouver's current real estate market.
"Fishing Boats" Vancouver, BC
Image Copyright JCRobinson 2014
"Japanese Language School" Vancouver, BC
Image Copyright JCRobinson 2014
"Oppenheimer Park" Vancouver, BC
Image Copyright JCRobinson 2014
An example of these debates occurred just as my research began in summer 2014 around Oppenheimer Park. The park sits near the centre of the former Japanese Canadian community in this part of the city. It was once the home field of the Japanese Canadian Asahi baseball team and today it is the site of the annual "Powell Street Festival" that has celebrated Japanese Canadian culture and community since it first took place in 1977. The park is also situated in the Downtown Eastside (DTES) community; a community with a high number of low income residence and many people who live on, or close to the streets. For many people, this park is not only a place of connection—it is also a place to sleep. This park became a site of protest when members of the DTES community and Musqueam Band members occupied it to draw attention to the shockingly large number of people who continue to struggle in Vancouver due to the lack of low-income residences and processes of gentrification. This protest and ongoing debates in the city of Vancouver about this neighbourhood and its residences show the multiple layers of occupation and displacement that have occurred here and the struggle that various cultural groups are battling to maintain a presence in this part of this city.
A recent research project The Right to Remain takes up these issues of displacement, gentrification, lack of low-income housing, and the disappearing unique cultural aspects to the Vancouver Eastside. As a collaboratively designed project with community members, artists, and researchers, this project highlights the struggle many residents from this area of the city endure to be try and maintain their lives in this part of the city. I take a closer look at the importance of research projects such as these in Chapter 4 of my dissertaiton and how they find a home in smaller museum institutions where it is possible to make very explicit and critical statements about rights.
Right to Remain Project:
http://www.revitalizingjapantown.ca/r2r/
CBC Article on Protest:
http://www.cbc.ca/news/canada/british-columbia/oppenheimer-homeless-camp-first-nations-members-issue-eviction-notice-to-vancouver-1.2712736
"Suitcases" Nikkei Centre, Burnaby, BC
Image Copyright JCRobinson 2014
Nikkei does not have a large collection of objects. This is partly because objects from the period prior to the Internment are scarce. The history of the Japanese Internment in Canada is a history of forced relocation. Along with relocation came dispossession and the loss of material goods. Many families only took a small number of their personal belongings with them thinking that they would soon return home. Sadly, this was not the case and personal items, along with homes, cars, fishing boats and all that made up the livelihood of this community, were taken and sold. My interviews at the Nikkei Centre were held in the back area of the museum. I was struck at some point by the stack of suitcases beside me. Suitcases make up a substantive portion of the material collection at the Nikkei because it was one of the only things that people had. And so, as I sat interviewing members of Nikkei Museum staff, this material presence of movement—of moments of hastily packing what few items could fit, of forced removal— surrounded me. The presence of these material objects emphasized for me the significance of a place like the Nikkei Centre and Museum. It is a place that is a keeper of this history of displacement, but also of the time before and the time after. It is an archive of family and community experiences; experiences that are rooted in being both Japanese and Canadian.
Landscapes of Injustice Project - a research group that is working to relocate items and property lost through disposition:
"Nikkei Home" Nikkei Cultural Centre, Burnaby, BC
Image Copyright JCRobinson 2014
Nikkei Place is a place for seniors. The Senior Heath Care and Housing Society offers several services ranging in degree of care for elderly JCC. The Nikkei Seniors residence is directly attached to the building with a small grocery store and restaurant. The presence of this place means that those who live here are close to the centre for events that occur; their presence is an essential part of the community that has grown around the Nikkei Centre. As I take up more extensively in Chapter 4, Nikkei Place is in part how Nikkei works to maintain tight connections within the Japanese Canadian community. Like the Chinese Canadian Military Museum, much of the work comes with maintaining connections with the elderly community, those who went through the internment, and to draw upon their knowledge in project development.
"The Glenbow Museum" Calgary, AB
Image Copyright JCRobinson 2014
Glenbow is unique in that it is a municipal museum, art gallery, archive, and library set right in the centre of downtown Calgary, located off the heavily pedestrian area of 8th avenue (Fig. 70) and surrounded by shops, pubs, restaurants, and the theatre district. As a result, the Glenbow is situated as part of the arts centre of city. The Glenbow grew from the collection of the founder Eric Harvie who began collecting objects from around the world in the 1950s after a successful career in resource extraction. Harvie's collection was initially focused on Indigenous and Canadian frontier histories, though he expanded his interests to collect objects from around the world. In 1966, he donated his collection to the Province of Alberta. Additionally, Harvie sponsored many other arts and culture institutions in Canada including: the physical building of the Glenbow Museum; the Banff School of Fine Arts; the Luxton Museum; the Calgary Zoo; Heritage Park; and Confederation Square and Arts Complex in Charlottetown, P.E.I. (Harrison 2005; The Glenbow 2016).
Information on Glenbow: http://www.glenbow.org/about/
"8th Avenue" Calgary, AB
Image Copyright JCRobinson 2014
Through the act of walking the streets with this project as my motivation, each city became somewhat of a muse as I let my thoughts wander as to the role of museum institutions vis-a-vis their host cities and where their future lies in terms of use. This was a particularly interesting exercise in the city where I primarily grew up. Given Calgary is my hometown, it was an interesting exercise to come back to this city and spend time thinking about the Glenbow and its relationship to the city and communities within its surrounds. I have not lived in Calgary for quite some time and the changes were evident. The city is bigger and busier. Over the last 10 years, I have seen how the Glenbow has become an important artistic gathering place in the city; it serves a function as a place where arts and cultural events and exhibitions are celebrated. With a large temporary gallery space, it is a museum, but also maintains a strong emphasis on contemporary artwork and frequently has exhibitions with large installations.
"The Spirit Sings" Glenbow Museum, Calgary, AB
Image Copyright JC Robinson 2015
The Spirit Sings: Artistic Traditions of Canada's First Peoples is an exhibition that remains transitional in Canadian museological practices. Opened in 1988 as part of Calgary's Winter Olympic celebrations, the exhibition was meant to highlight the artistic achievements of Indigenous peoples across Canada through objects from museum collections around the world. The exhibition was heavily protested during its opening for its major sponsorship by Shell Oil, which, at the time, was actively drilling on Lubicon Cree land despite mass protest. Museums have always made use of funding from various private sectors and this remains a point of contention in contemporary museum practices. Is there an ethical line that is crossed in terms of financial aid coming from funding sources which, as in this case, are actively involved in human rights disputes? The Spirit Sings was a pivotal point where the implications of museum practices on the lives of Indigenous communities came to a head. Part of my intent in visiting the Glenbow was to spend time speaking with current and former staff of this museum to gain a sense of what the atmosphere was like in Calgary around the time of the exhibition and how this led to the need to establish long-term relationships with Indigenous communities around Calgary. How does an institution recover from a moment like this, a moment that has become synonymous with changing museological practices in Canada?
"Mavericks" Glenbow, AB
Image Copyright JC Robinson 2014
The Spirit Sings controversy forced the Glenbow, like many other museums in Canada, to drastically change their institutional practices and to rethink and reconfigure relationships with Indigenous peoples. The Mavericks Gallery is an interesting example of an exhibition that seeks to incorporate a multi-cultural, co-developed history of the Province of Alberta told through the life story of 48 Mavericks who are of Indigenous, European, and Asian heritage. Through these stories told in themes such as "Uninvited Guests," "Ranching," "Railways" and "Oil and Gas," the exhibition highlights the spirit and challenges of life lived on the Prairies and Foothills area of Canada.
The exhibition also makes use of small exhibition nodes called "First Nations Perspectives" that integrated distinct Indigenous perspectives through the various exhibition themes of "Ranching," "Railways," "Oil and Gas," etc. Though this exhibition highlights the role that people of many cultural backgrounds played in the development of Alberta, these nodes successfully provide an additional space to intervene in dominant narratives of the settlement of the west of Canada with the experiences of Indigenous peoples from this part of the country.
Mavericks Web Resource: http://www.glenbow.org/mavericks/
"Niitsitapiisinni Our Way of Life" Glenbow Museum, Calgary, AB
Image Copyright JCRobinson 2014
Niitsitapiisinni Our Way of Life is a large permanent gallery curated by a collective of 17 Niitsitapi or Blackfoot community members and Glenbow staff. The collective included members from the Kainai, the Piikani, Amsskaapipiikani, Apatohsipiikani, and Siksika communities. Opened in 2002, the exhibition remains a highly successful Canadian example of a project controlled by the community where the content and design of the exhibition were chosen by the collective, with a shared desire to build an exhibition that was first and foremost for Blackfoot youth (see Conaty 2003,2006,2008; Conaty and Carter 2005; Krmpotich and Anderson 2005; Phillips 2011). The exhibition also has an accompanying book authored by the Blackfoot Gallery Committee (2013) and interactive Virtual Museum Exhibition: http://www.glenbow.org/blackfoot/. The exhibition occupies a large portion of the museum's third floor and is connected the to the gallery New Sun Gallery of Aboriginal Art and Culture, which provides an overview to many of the Indigenous peoples of Canada and the various unique landscapes and artistic traditions that exist in Indigenous cultures. This was a deliberate choice requested by the Niitsitapi committee so the gallery would help put the Niitsitapi culture in context with other Indigenous cultures from across Canada and other parts of the Prairies (Phillips 2011).
The museological work that came along side this exhibition has also been instrumental in terms of repatriation work in Canada with a number of scared bundles and other items being return to Niitsitapi communities.
"Community Partners" Glenbow Museum, Calgary, AB
Image Copyright JCRobinson 2014
Funding for exhibitions is always a massive challenge. Many of my participants were honest about the increasing difficulties in securing funds, particularly for the institutions that are not primarily funded through the government - say national and provincial museums. One of the great debates that has surfaced is the role of corporate funding, in particular funding from the resource sector. I don't really have an answer for this or feel I have the experience to know what is best in a financial climate where arts funding is struggle. Canada was built on resource extraction and the legacies of this history are very raw. Fishing, hunting, lumber, mining, oil—all of these industries are deeply connected to the development of Canada as a nation and the wealth many received through these industries at the expense others, primarily Indigenous communities. Calgary is an oil town, there is not argument about this. In the case of the Glenbow, Shell Oil sponsored Spirit Sings, this sponsorship was a huge part of the reason the exhibition was protested. However, should Shell not be required to financially contribute to the arts community of Calgary? Given present climate talks and the debates surrounding Canada's oil industry these are challenging issues going forward. Funding from the resource sector, like large banks, and like funding from the government itself, come with questions about the ethics of taking money from certain sponsors and yet, where else does the money come from? How often are strings attached to funding that prevent certain exhibitions from being more provocative?
"Niitsitapiisinni Our Way of Life" Glenbow Museum, Calgary, AB
Image Copyright JCRobinson 2014
Niitsitapiisinni Our Way of Life is an experiential exhibition. As you pass through, it is as though you are walking through the territories of the Blackfoot with the colours, sounds, and features of the landscape built into the exhibition. There are many interactive features, including a large tipi you can enter, as well as multimedia features where you can hear the Niitsitapi language being spoken and witness film clips of Elders and community members sharing their stories throughout the exhibition. There are many spots where translation sheets that discuss various aspects of Niitsitapi culture and language are offered. Visitors can take these sheets home from their visit. The voices of the community stand out when walking through the exhibition, as all the exhibition panels are written directly by Niitsitapi community members. The design installations, coupled with the use of sound, photographs, and objects, creates an experience of walking through the Niitsitapi territories of what is now southern Alberta
Image Copyright JCRobinson 2014
"Blackfoot and IRS" Glenbow Museum, Calgary, AB
Image Copyright JCRobinson 2014
The experience of walking through the territories is juxtaposed with a small home typical of those built on early reservations and a mock residential school (seen here; also, discussed in Phillips 2011). This space was interesting to me as an exhibition feature designed by Survivors of IRS. Opened in 2002, the exhibit is unique given it is one of the first curatorial spaces of which I am aware of where Survivors shared their experiences of these schools through an exhibition format designed by Survivors and their communities. It was important for Niitsitapi involved to have Indian residential schools as part of the exhibition, and though small—primarily just the window seen here in the photo—it creates a space in which to speak about the intergenerational effects of these schools in Blackfoot communities by people who have direct experience. This contrasts with other institutions visited as part of my project where exhibition panels that discuss residential schools are acknowledged briefly in the context of broader Canadian, provincial, or regional histories (e.g., the panels from the CMH).
"Residential Schools" Glenbow Museum, Calgary, AB
Image Copyright JCRobinson 2014
"Community Curators" Glenbow Museum, Calgary,AB
Image Copyright JCRobinson 2014
Now that many of the members of the original curatorial collective have passed on, including Glenbow Curator Gerald Conaty who worked tirelessly to integrate Indigenous ways of knowing into the Glenbow (see Conaty 2015), interesting questions remain as to how this space will evolve into the future. Blackfoot partners are very much involved in the gallery. For example, guides take school children through the exhibition and community members continue to work regularly with museum staff on the museum's material collection. However, when it comes to regenerating this exhibition, what changes will take place? What new stories will be integrated? These are the discussions that have begun to percolate at the Glenbow. What do the Niitsitapi want to say about their communities and culture since 2001? If, and when, these updates happen to this exhibition, what may these changes say about the continuity of working with community curators over close to a 20-year period?
"Standing With Survivors" RIDSAR, University of Victoria, BC
Image Copyright JC Robinson 2015
I debated where exactly to put this project in this online version of my research. The smallest field site that I spent time with has also been the closest to me. The Residential and Indian Day School Art Research Program (RIDSAR) is housed in the Department of Anthropology at the University of Victoria but is composed of a collection of researchers including Residential School Survivors, the families of Survivors, curators, researchers, students, and various community activists. I have been involved with this project since 2012 and continue to remain involved in this work as a Research Affiliate. A full description of the work of this project can be found here:
"CMHR Across the Bridge" Winnipeg, MB
Image Copyright JC Robinson 2015
This brings me back where I began, the Canadian Museum for Human Rights (CMHR) in Winnipeg. In the context of this project, there is much to be said about this institution. Popular media, academic scholarship, and community-rights activists have all produced a steady stream of criticism, which has rightly drawn attention to the complications of displaying human rights as an institutional theme, including the potential for government censorship and cultural claims over equal exhibition space (see Busby et al. 2015; Hankivsky & Dhamoon 2013; Lehrer 2015a, 2015b; Moses 2012). In addition to exhibition criticisms, the museum has been plagued by funding complications and staff resignations. In February 2015, I returned to Winnipeg to spend time in the galleries and to speak informally with staff here. I say informally because the CMHR did not grant me permission to conduct formal interviews here, though when I initially contacted representatives from the institution during the development of my proposal, I received very positive feedback about the project and was told that staff would love to participate given the parameters of my research. As my travel plans were coming to fruition for this second trip, I received word that CMHR staff would not be able to grant permission for any interviews until processes had been put in place within the institution to consolidate responses to media and research inquires. I share this research development as it indicates the level of scrutiny that the institution was under during this opening year, but also, what I believe to be the level of confusion and uncertainty under which staff were operating. I can only imagine the working environment under such conditions. During my informal conversations with staff I could sense the stress and tension. I took the chance off the record to be in some way sympathetic to these circumstances and to the enormous challenges this institution faces as it tries to establish itself as a research institution as well as museum FOR, not OF, human rights.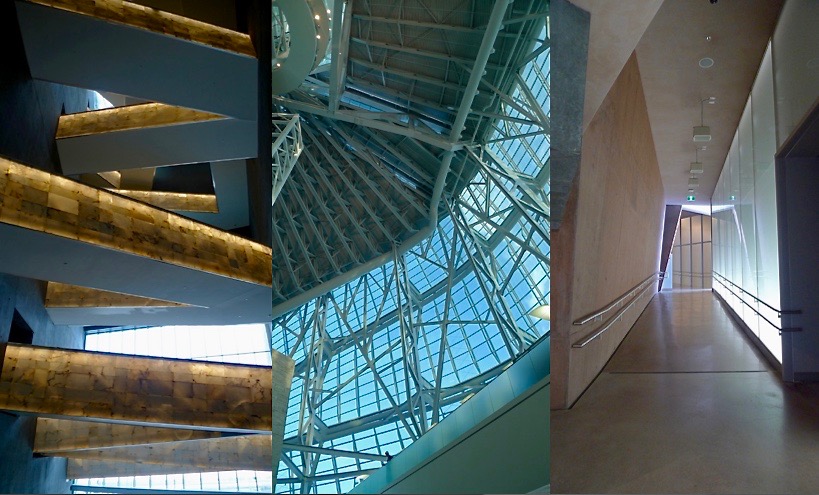 Canadian Museum for Human Rights, Winnipeg, MB
Image Copyright JC Robinson 2014
The CMHR was 14 years in the making and started as the dream of prominent Winnipeg business man Israel Asper. He envisioned a Holocaust memorial museum; the museum shifted to a wider focus on human rights in 2007 with the involvement of the Canadian Federal Government. Government funds transformed the museum into Canada's newest national institution and the first outside of the capital region. The building itself is meant to be experiential; architect Antoine Predock created a space the takes the visitor from the darkness of the entrance through to the lightness of top of the building passing through four main sections: the cloud, the roots, the mountain, and the Tower of Hope. Major galleries spaces include What are Human Rights?, The Indigenous Perspective, Canadian Journeys, Protecting Rights in Canada, Examining the Holocaust, Turning Points for Humanity, Breaking the Silence, Actions Count, Rights Today, and, finally, the Israel Asper Tower of Hope. There is also a contemplation garden, temporary exhibition spaces, a gift shop, and an award-winning restaurant (Newman and Levine 2014). There is no question that the architecture of the CMHR is quite outstanding. The building marks the Forks landscape in a somewhat overwhelming way; standing at the doorway of the institution, you realize just how massive the building is. I found walking through the several layers of the museum to be overwhelming and, at some points, rather exhausting.
"Canadian Journeys" Canadian Museum for Human Rights, Winnipeg, MB
Image Copyright JC Robinson 2015
Multimedia are prominent throughout the CMHR. Large screens are used in all the galleries and are programmed to flash images that juxtapose with one another. Reflected light bounces off the alabaster ramps that connect the museum floors. The Canadian Journeys section seen here was of great interest to me. This is the area that features the three apologies at the core of this project, along with other moments in Canadian history that have come to shape the rights movement in Canada. Exhibits comprise large text panels, photographs, newspaper clippings and a minimal use of objects. As you walk around the semi-circular gallery space, each moment presents as a snap shot of rights struggles that have occurred in Canada (see next images). As I take up in Chapters 4 and 5, the space allocated for these experiences is small and the level of community consultation was minimal. Given the sheer size of the museum, working closely with community consultants was difficult and for those interviewed this lack of clear communication or involvement was a negative experience.
"Japanese Canadian Internment" Canadian Museum for Human Rights, Winnipeg, MB
Image Copyright JC Robinson 2015
"Chinese Head Tax and Exclusion Laws" Canadain Museum for Human Rights, Winnipeg, MB
"Indian Residential Schools" Canadian Museum for Human Rights, Winnipeg, MB
Image Copyright JC Robinson 2014
"Red Dress" Canadian Museum for Human Rights, Winnipeg, MB
Image Copyright JC Robinson 2015
"Garden of Contemplation" Canadian Museum for Human Rights, Winnipeg, MB
Image Copyright JC Robinson 2015
Similar to the decompression space in the Canadian War Museum, this gallery at the CMHR is meant to be a place for contemplation and reflection. It is designed as an indoor resting space for visitors to sit and to absorb the material that is presented in the exhibition spaces.
"Izzy Asper Tower of Hope" Canadian Museum for Human Rights, Winnipeg, MB
Image Copyright JC Robinson 2015
The view from the Tower of Hope offers a beautiful panorama of the city of Winnipeg. Such places invite moments of contemplation. The largest question remaining after my visit and my informal conversations with staff and people in Winnipeg was, what will the future of this museum be? Will this museum become a place that can both educate about human rights violations while critically engaging with current rights debates in Canada and beyond? Through partnerships with the Human Rights Research Centre at the University of Manitoba and the engagement of many scholars, artists, and activists from across Canada, many are already working to keep the CMHR accountable to what the institution's mission: to be a hub of research on global human-rights issues in addition to using exhibitions and public programming as avenues to educate visitors about these histories and events.
St. Boniface Museum, Winnipeg, MB
Image Copyright JC Robinson 2015
It was interesting to think how the CMHR fits into the heritage network of gallery spaces that I visited in Winnipeg, including the Winnipeg Art Gallery, the Manitoba Museum, the Railway Museum, and Plug In Institute of Contemporary Art. As I wandered across the bridge into Saint Boniface across the river from the CMHR, I came across the Boniface Museum located in former convent run by the Grey Nuns. This place intrigued me. As a small museum, it functions with few funds and little staff, and houses exhibitions in need of updating. And yet, as a museum about the Riel Rebellion, devoted to the life and death of Louis Riel, and Métis and Francophone culture in Manitoba, this museum is fundamentally about rights and rights issues specific to Canada. It reminded me of the broad scope of rights-related exhibition work that has been occurring well outside of the parameters of my research, and about the work that small institutions do daily within their communities to make a difference to those whose cultures and histories are reflected in their exhibitions.
Witness, Victoria, BC
Image Copyright JC Robinson 2016
As I have travelled this journey of my research process and the duration of my degree, I am conscious of the stories and experiences that have been shared with me by my research participants, but also by many Survivors of acts of discrimination and violence in Canada. I am grateful and humbled by all the experiences that have been shared. I remain mindful of my role in witnessing these stories. I remain mindful of my responsibilities to use these stories in my own teachings to others and their role in guiding how I exist in relation to others. I remain mindful about how to be present and to be here together in a good way.
Canada150: Community Stories of Rights & Resistance
Canada Dry, Victoria BC
Image copyright JC Robinson 2016
With my current position as Postdoctoral Fellow at Queen's University with the SSHRC-funded Creative Conciliations research collective, I have extended my doctoral research into rights-based museological practice with an investigation into community stories of rights, resistance, and critical acts of engagement with the Canada 150 project and government-proposed reconciliation agendas.
Thinking, humming, processing -- more project info coming soon for now some reflections:
https://www.pyriscence.ca/home/2018/1/20/canada-150-and-the-art-of-reconciliation
The Six Seasons of the Asiniskow Ithiniwak: Reclamation, Regeneration, and Reconciliation
A View from Calm Air, Northern, Manitoba 2018
In 2018 I joined the Six Seasons of the Asiniskow Ithiniwak: Reclamation, Regeneration, and Reconciliation Partnership Project as a Postdoctoral Fellow through the University of Winnipeg. The overall goal of this project is to support the ongoing work of reclaiming Indigenous languages, histories, and knowledges among the Asiniskow Ithiniwak (Rocky Cree). Part of my role within this larger project will be to conduct an analysis of the policies and practices the Six Seasons team have developed for community-engaged research concentrated on language revitalization. This project will document the collaborative, participatory, and community-based research practices of all of the Six Seasons teams in order to assess the successes and challenges of the various methods being developed. The outcomes of this project will help articulate best practices for collaborations between Indigenous and non-Indigenous researchers, with a view to making these available to inform university policy and program development.
"To Reunite To Honour To Witness" Victoria, BC
RIDSAR Exhibition at Legacy Art Gallery in Victoria BC 2013
Since 2012 I have worked as part of a research collective, funded in part through a SSHRC Insight Development Grant titled: Residential School Art Collections: Histories, Legacies, and Reconciliation, led by Dr. Andrea Walsh, at the University of Victoria. The basis for this project is the repatriation of artwork produced by Indigenous children while in Residential and Day Schools from archives and collections to Survivors, and the building of curatorial, programming, and educational projects that support healing and stories of resilience with Survivors. I have contributed in a number of ways to this work alongside a collective of Survivors from the Alberni Indian Residential School (AIRS). Currently, I continue to offer support to ongoing projects with the AIRS group, in addition to supporting new branches of artwork repatriation to Survivors from other schools. This project has given me a true insight into the possibilities of working collaboratively on research that is first and foremost for the community of Survivors that have chosen to be involved with this work and who have very much guided the way the research has progressed. I am humbled and honoured to have had the opportunity to be included in RIDSAR over the last few years and to have met the friends I have along the way. This project has been nothing short of life changing.
The Aller Archive - Anth Visual Lab at UVIC
Image Copyright JC Robinson 2014
Part of my contribution to this project was to spend time with the archive of Robert Aller. Aller was an artist and art teacher who taught painting lessons across Canada to both adults and children, including many Indigenous children at several different Indian Residential Schools. In addition to paintings, Aller kept an extensive amount of his personal correspondence from art galleries, universities, schools, several people at the Department of Indian Affairs, other artists, and various community members. His written archive has helped us gain a better idea of where and when he was teaching, who he worked with, and which children took part in his classes. It is quite something to read through the paperwork of one man's life; it was as though I could hear his voice in my head as I read through his letters: his thoughts on IRS schools, on the importance of artistic practice, and of all forms of art as a true form of freedom of expression.
Letter Head from the Aller Archive
Image Copyright JC Robinson 2014
"The New" Library and Archives Canada, Ottawa ON
Image Copyright JCRobinson 2012
In December 2012 Andrea Walsh and I traveled with Elder Wally Samuel to Ottawa to spend a few days in the Library Archives Canada (Fig. 83). We were looking for any information pertaining to the Alberni Indian Residential School (AIRS). The RIDSAR project focused its first major work with the AIRS Survivors because the location of the school was less than four hours' distance away from the University of Victoria on Vancouver Island. We were also looking for information on school curriculum to see if documentation of art-based practice in the schools existed in the archives.
"Archival Evolution" Library and Archives Canada, Ottawa ON
Image Copyright JCRobinson 2012
"The OLD" Library and Archives Canada, Ottawa ON
Image Copyright JCRobinson 2012
You know you have met a kindred spirit when you bond over your love of old-school archival microfilm readers :)
"Accessible Archive" University of Victoria, Victoria, BC
Image Copyright JCRobinson 2012
Sometimes the process of making the archive accessible to someone else, or a group of people outside of an institution, really just comes down photocopying as much as you can. Get the information OUT! Photocopy until your eyes semi burn from weird photocopying chemicals. Photocopy until you have battled with the photocopier breaking down at least seven times --- photocopy until you can photocopy no more...those who have done this know what I mean.
Education Centre TRC Vancouver September 2013
Image Copyright JC Robinson 2013
All TRC national events had an Education Centre which included a variety of information booths. Small exhibitions, such as Legacy of Hope's 100 Years of Loss (set of orange panels seen in this picture) were also on display, which exhibited an illustrated timeline of Indian residential schools in Canada. Additionally, there were several artist booths and spaces where community activists and support workers shared their information. There were also church archives available so that Survivors could request photocopies of any information from their records. The RIDSAR group participated in three TRC events: Victoria 2012; Vancouver 2013; and the closing of the TRC in Ottawa in June 2015. Though the project is not officially affiliated with the TRC, the structure of the TRC and its associated events provided a unique platform on which the project grew. This was primarily due to the networks of people who attended the TRC. They helped to identify the owners of much of the artwork and provided a safe space to foster critical conversation about the artwork and the project. The platform of having caregivers and Elders around for Survivors as needed was crucial. The Education Centres also provided a place for the project to interact with various groups of people such as school groups and university students.
"RIDSAR Booth TRC Vancouver 2013" Vancouver, BC
Image Copyright JC Robinson 2013
Six paintings from the Alberni Indian Residential School were on display in the RIDSAR booth at the 2013 TRC event in Vancouver. These were displayed with permission of the artists along with a slide show of more paintings and photographs. A series of panels explained the project and group members from RIDSAR – both Survivors and from UVic—were present to help explain the work to visitors. I take up the importance of this booth in Chapters 4 and 5 of my dissertation where I emphasize the role of community partners throughout this project. The success of the booth was directly due to the participation of Survivors. One community member brought all her photographs from the Alberni Indian Residential School that she had been collecting and helped to answer questions and distribute copies of photographs to any community members who asked. Her work was integral to transforming the booth into a safe space for Survivors to gather, some reconnecting for the first time since they were school children. The booth also became a safe place for people to decompress from the experience of witnessing the hearings shared by Survivors. The stories shared were gut wrenching to hear. The booth provided a point of connection and a sense of community for all of us who were there for the duration of the TRC.
"Eagle Down" Vancouver, BC
Image Copyright JC Robinson 2013
"Reconciliation Walk 2013" Vancouver, BC
Image Copyright JC Robinson 2013
A walk for reconciliation took place in Vancouver at the end of the national event for the TRC. Walks or marches like these are powerful ways to mark the streets. When people come together—in this case roughly 70,000 people gathered during a massive rainstorm—the process says something profound about the state of current affairs in Canada regarding the treatment of Indigenous peoples. Moving forward requires new relationships between Indigenous and non-Indigenous peoples in Canada; new relationships between the state and communities; new ways to work through historical grievances and wrong doings; and new ways of trying to build a better future. On this day, despite the rain (and it was heavy!), it felt as if those who gathered to walk together were committed to making change.
"The Mailout!" University of Victoria, Victoria BC
Image Copyright JCRobinson 2013
Another area of this project in which I was involved during 2012 and 2013 was putting together a list of other cultural institutions across Canada that may have IRS material in their collections. The list included museums, archives, heritage centres or associations, some libraries, Indigenous cultural centres, and a few art galleries, depending on what kind of archival/collections material they have. This photo is of the final hardcopy survey letters we mailed out, although most letters were sent via email. I owe a huge thanks to Devin Tepleski, a former UVic student, colleague, and friend, for helping Andrea and I get this survey put together to send electronically.
"We Are All One" - Alberni Valley Museum 2015
Poster advertising a second survivor led curatorial project at the Alberni Valley Museum.
In addition to participating in two Truth and Reconciliation Commission hearings in the Education Centre—Victoria 2012, and Vancouver 2013—several paintings and stories shared by the Survivors and their families have been curated into two gallery exhibitions. The first was held at the Legacy Art Gallery in Victoria, and the second at the Alberni Valley Museum. In the spring of 2013, the paintings were also honoured and returned in a community feast in Port Alberni. Replicas of the artwork were made and framed so that each Survivor would have their original painting in addition to a high resolution archival quality replica. The feast became an essential event that witnessed the repatriation of the paintings back to individuals and the return by many Survivors of their paintings back to UVic. Many Survivors chose to acknowledge the return of their painting but requested that UVic keep the painting and their story of their residential school experience attached to the painting so that the two could work together to educate others about the residential school legacy in Canada in the future. This unprecedented act of generosity has come to shape the work the project in wonderful ways. Survivors and their paintings have travelled to several community events, academic conferences, museum events, UVic lectures, and public schools to share their residential school stories, thereby highlighting the importance of these children's paintings in facilitating discussions around this difficult history.
"TRC Reconciliation Walk June 2015" Ottawa, ON
Image copyright JC Robinson 2015
"United in Reconciliation" Ottawa, ON
Image Copyright JC Robinson 2015
In June 2015, I was fortunate enough to travel to Ottawa with members of the RIDSAR collective to be in the city for the closing of the TRC. This trip coincided with a new partnership forged between the Canadian Museum of History and members of RIDSAR to incorporate Survivors' stories of Indian residential schools alongside artwork many had done as children into the new Canada History Hall. This trip was truly life changing for all involved—certainly so for me. The friendships forged during this time remain remarkable. I feel so grateful to have been a part of this project and to see how its work has impacted the lives of those involved, but also those who come to events or exhibitions witness the stories that Survivors and their families have shared. I arrived early enough to be able to join a walk for reconciliation (this image and previous image) which started prior to closing events of the TRC. Again, like Vancouver, it was a powerful experience to walk with people in the name of respect and with the hope of change. Walks or marches are acts that mark the streets with acts of solidarity. They are part of the larger network that make up the "culture of redress" at work in Canada, where various actors in this network come to influence and inform how redress is practiced and understood (Henderson and Wakeham 2013:7). I was conscious of actors in this network in Ottawa as I saw the Ottawa Japanese Canadian Association walking with signs declaring the Association's unite in the fight for reconciliation with IRS Survivors. This declaration is an act that draws the connection between the Japanese Canadian redress movement in Canada and current Indigenous struggles for rights, recognition, and resurgence.
"TRC Ottawa June 2015" Ottawa, ON
Image Copyright JC Robinson 2015
"Buffy!" Ottawa, ON
Image Copyright JC Robinson 2015
The closing of the TRC came with various programming events scheduled around the city. Buffy Saint Marie was one of the performers schedule and she is such a powerhouse to what. Buffy, like many musicians, has always used her voice as a tool for protest and education. I have such respect for her and her musical career. it was very powerful to see her here for the second time during my fieldwork - she was the head liner for the opening celebrations of the CMHR as well. Buffy had on stage with her during this performance a red dress in honour of missing and murdered Indigenous women and it was such a powerful gesture to make. It is humbling to reflect on how Buffy has used her voice as a place of action that draws attention to the struggle for the rights and recognition of Indigenous peoples for decades. She is a powerhouse.
"View from the Top" Canadian Museum of History, Gatineau, QC
Image Copyright JC Robinson 2015
It was an incredible experience to tour through the CMH and to have a day spent wandering through its storerooms and back hallways accompanied by our RIDSAR team. I have always been conscious of these moments in museum work, the moments when people encounter material heritage located in collections that came from their communities—that in some cases was literally made by their ancestors. In the room pictured here with a clear view of Parliament Hill, I was conscious of how members of our group may have been feeling in the presence of this wealth of material heritage from the West Coast of Canada. I was also left wondering how the final exhibition will come to fruition with the Survivor stories.
"Packed Up" Canadian Museum of History, Gatineau, QC
Image Copyright JC Robinson 2015
Our days at the museum were full; many members of our group took the time to have a short video filmed of them telling their story along with their painting, or the painting of their relative. These videos will be edited for use in the new Canada Hall. I was struck how the museum staff who were involved in this part of the curatorial process were visibly changed after hearing Survivors share their experiences so openly. Emotions had clearly crept into their work in a way they had not expected, with the effects visible through their body language. As I discuss further in Chapter 3, this project has a way of turning handshakes into hugs. The RIDSAR team gave a public talk at the CMH as part of the closing of the TRC which, like every event that I have attended with this group, was powerful, honest, and humbling. These are stories that change people. With the paintings packed up and our team ready to head west after almost a week in Ottawa, it felt like good work had been done. It felt like good work because peoples' stories and experiences were honoured and respected. The RIDSAR team looks out for one another, emotionally, physically, and spiritually. It is the only way that work like this can take place.
"Flowers" Ottawa, ON
Image Copyright JC Robinson 2015
Words In Writing
"Butterfly Busrides" - London, UK
Image Copyright JC Robinson 2011
Journal Articles
Robinson, Jennifer Claire. 2019. "Institutional Culture and the Work of Human Rights in Canadian Museums," Museum Management and Curatorship 34(1):24-39. https://www.tandfonline.com/doi/full/10.1080/09647775.2018.1526647
Tremblay, Crystal, Spilker, Robin, Nagel, Rhianna, Robinson, Jennifer and Leslie Brown. 2017. "Assessing the outcomes of Community-University Engagement Networks in a Canadian Context". Engaged Scholar Journal: Community-Engaged Research, Teaching, and Learning (3)2: 1-21. doi: http://esj.usask.ca/index.php/esj/article/view/328
Robinson, Jennifer Claire. 2016. "Archival Theatre: Place and Performance in Early 20th Century London". Early Popular Visual Culture 14(1): 16-54. doi: https://www.tandfonline.com/doi/abs/10.1080/17460654.2015.1092878
Book Chapters
Robinson, Jennifer Claire. 2018. "Coming Undone: Protocols of Emotion in Canadian Human Rights Museology". In Emotion, Affective Practices, and the Past in the Present, eds. Laurajane Smith, Margaret Wetherell, and Gary Campbell. Routledge Key Issues in Cultural Heritage, pp.150-163. London: Routledge. https://www.routledge.com/Emotion-Affective-Practices-and-the-Past-in-the-Present/Smith-Wetherell-Campbell/p/book/9781138579293
Reviews
Robinson, Jennifer Claire. 2017. "Review of: The Canadian Oral History Reader, edited by Kristina R. Llewellyn, Alexander Freund, and Nolan Reilly". International Journal of Heritage Studies 23(7): 675-677. doi: https://www.tandfonline.com/doi/abs/10.1080/13527258.2017.1317650
Non-Refereed Contributions
Robinson, Jennifer Claire. 2018. "The Space of Gathering and Gathering in Place". Creative Conciliations Project Site, Online Essay, July 25th, 2018. Available Online: http://conciliations.ca/?p=765
Robinson, Jennifer Claire. 2018. "Canada 150 and the Art of Reconciliation", Pryiscence Magazine. Online Essay, January 24th, 2018. Available Online: https://www.pyriscence.ca/home/2018/1/20/canada-150-and-the-art-of-reconciliation
Wastasecoot, Lorilee and Robinson, Jennifer Claire. 2017. "What Does It Mean to Witness: A Conversation", There is Truth Here: Creativity and Resilience in Children's Art from Indian Residential and Indian Day Schools Exhibition Site, Online Essay, September 2017. Available Online: http://uvac.uvic.ca/gallery/truth/witnessing/lorilee-wastasecoot-and-jennifer-robinson/
Robinson, Jennifer Claire. 2017. "Rivers". Creative Conciliations Project Site, Online Essay, October 24th, 2017. Available Online: http://conciliations.ca/?p=735
Dissertation
Robinson, Jennifer Claire. 2017. The Exhibition Landscape of Human Rights in Canada: An Ethnographic Study into Process and Design. PhD Dissertation. University of Victoria. https://dspace.library.uvic.ca/handle/1828/8500
Teaching
My teaching principles are guided by the same principles with which I conduct research: maintain respect for culturally and socially diverse ways of knowing and being in the world; encourage collaborative working methodologies; and incorporate alternative pedagogies that draw on creative, community, and land-based teachings. Through these principles, I am motivated to help students better understand the diversity of cultures across the territories now known as Canada and the historical and contemporary social, political, and economic complexities that exist in Settler-state societies
Museums, Collections & Communities (Introduction to Museum Anthropology)
Anthropology 3rd Year Undergraduate Course
Course Description:
This course will cover the history of museums, cultural exhibitions and collecting practices from the late 19th century until the present, paying particular attention to development of Canadian museums and their role in contemporary Canadian society. As socially constructed spaces, museums offer a fascinating study into the values certain societies place on the preservation, conservation and exhibition of cultural objects, cultural practices and cultural knowledge. This course will examine the changing landscape of museums: once spaces linked to colonial expeditions, early salvage ethnographic projects and government initiatives to document cultural practices, museums in the latter half of the 20th century have become "contact zones" between cultures, spaces that are fundamentally challenged by Indigenous and other communities represented in their collections. As a result museums are slowly re-configuring their collections research, curatorial practices, and exhibition design based on collaborative museum practice and the ethical responsibilities institutions carry to the people and communities whose material culture remains in collections and to the various publics that use these spaces. This course will concludes with examples of how new collaborative and experimental museum methods are positioning museums in the 21st century as important educational spaces equipped to tackles issues related to human rights and social justice.
Art, Activism, & Curating with Care, Graduate Course
Course Description:
This course explores the relationship between arts practice, creative research methodologies, and social justice. Whether in the space of a gallery, community centre, or on the walls of buildings in the streets—art can create avenues for anti-oppressive, anti-colonial, inclusive, and truly collaborative research practice. This course follows a series of inquiries: (1) How acts of resistance, resilience and cultural resurgence are produced through creative practice; (2) How art as activism can mobilize institutional change and contribute positively to the lives of individuals and to the wellness of communities; (3) How aesthetic action is produced through creative practice, that is, how visiting an exhibition, engaging in public programming, and creating arts-based projects require us—whether as researchers, artists, curators, students, or visitors—to feel; (4) And finally, how relational research and pedagogies of care create new forms of art practice.
The Material and Visual Culture of Canada
Anthropology 3rd Year Undergraduate Course
Course Description:
This course investigates the development of Canada as a nation through the study of the production and circulation of material and visual culture. This course highlights how items such as photographs, monuments, museums, exhibitions, colonial architecture, artworks, music, radio and film have all contributed to how Canada as an idea, a place, and a nation has been created. This course begins with the period just after Canadian Confederation and moves historically and thematically through representations of Canada that have developed as a result of: colonial expansion and settlement; the vast and varied Canadian landscape; the two World Wars; the growth of Canadian fine arts, museums and galleries; the NFB and CBC; and national monuments and celebrations. Through these themes, this course aims to interrogate the concepts of Canadian nationhood, identity and collective memory. Given Canada is composed of Indigenous peoples, descendants of Settlers, and new immigrant communities, what exactly does it mean to be Canadian? What constitutes a sense of "Canadian-ness" or the culture of "Canadiana"? How has the image of Canada been created and distributed both nationally and internationally? And finally, what does it mean for certain communities living within Canada to define their cultural difference against the concept of being Canadian? These are some of the questions this course explores.
Introduction to Cultural & Social Anthropology
Anthropology 2nd Year Undergraduate Required Course
From 2016-2017 I work with Dr. Melissa Gauthier in the Department of Anthropology at the University of Victoria to co-teach the second year required course Introduction to Social and Cultural Anthropology.
Course Description:
This course provides students with an overview of social and cultural anthropology – its origins, its distinctive methods and concepts, and its place in the contemporary world. In this course, you will learn how to think about contemporary events from an anthropological perspective and how to better understand yourself in relation to others. You will also learn to appreciate the diversity of topics that contemporary socio-cultural anthropology explores and the extent to which it can help you better understand a world where peoples and societies are increasingly interconnected.
Repatriation: Reconciling the Museum's Colonial Legacy Anthropology 4th Year Undergraduate Seminar Course
Course Description:
The repatriation of ancestral remains and material culture from museums to Indigenous peoples is a significant contemporary issue in the global heritage field. This course seeks to broaden the understanding of repatriation by examining the word's origins through examples from the use of the term in the context of war, with regards to issues of immigration, in situations involving archaeological and anthropological material, and by expanding the use of the word to include acts of reconciliation between Indigenous peoples and the state. The course specifically addresses the question of whether act of repatriation are able to reconcile with the colonial legacy of museums. Through multiple case studies, various guest speaks, class facilitation, and a wide range of reading and audio visual materials this course examines not only the materiality of repatriation, but also how repatriation occurs in other forms such as the reclamation of language, land, and family history. This course is designed to be an in-depth analysis into repatriation and compliments an introductory course covering the history of museums.
Academic Tutor with the Resource Centre for Students with a Disability
Link for Centre http://www.uvic.ca/services/rcsd/
The RCSD offers a variety of services to students in need. These services range from technological learning aids, examination accommodations, to academic tutoring all in place to help students achieve success at university despite barriers to their learning. I have really cherished my time working as a tutor, which has given me the chance to work one on one with students. I have appreciated greatly the honesty that many students have shared with me in terms of their struggles, whether these be from physical disabilities, learning disabilities, or mental health issues. Our classrooms as instructors are filled with such a wide breath of learning styles and personal histories. I am grateful for this first hand experience into the barriers that face many students in my classroom and the for the training that the RCSD provided to better work with these issues.
Teaching Assistant Positions UVIC Department of Anthropology 2011-2016
Anthropology 100: Introduction to AnthropologyANTH 100
- Course Assistant and Tutorial Leader
Anthropology 200: Cultural and Social Anthropology ANTH 200
Anthropology of the Arts - ANTH 305
Visual Anthropology - ANTH 309
Words Out Loud
*selected recent presentations
Conference Presentations
2018 Paper Presentation "(Re)conciliation and the Pedagogy of Witnessing in Canadian Museums and Arts-based Research" Art, Materiality, and Representation, co-sponsored by the Royal Anthropological Institute, SOAS & the British Museum, June 1-3, 2018, London, UK
2018 Paper Presentation, "Creative Practices on the Canadian Reconciliation Landscape", Making Creative Space: Integrating Arts-based Research in Anthropological Practice Symposium, Canadian Anthropology Society Annual Meeting co-sponsored by the Society for Applied Anthropology and the Universidad de Oriente, May 16-20, 2018 Santiago de Cuba, CU (chair, presenter)
2017 Paper Presentation, "Canada at 150 Years: Community Stories of Rights and Justice," Historical Dialogues, Justice, and Memory Network Annual Meeting, December 7-9, 2017, New York City, NY.
2016 Roundtable, "'Uy shkwaluwuns - To Be of a Good Mind and Spirit": Best Practices for Teaching Coast & Strait Salish History & Culture through BC Museums & Arts Institutions," Canadian Society for Education through Art/ BC Arts Teachers' Association, October 20-22 2016, Victoria, BC (Chair, presenter)
2016 Roundtable, "Thinking through the Museum: Difficult Knowledge in Public," Association of Critical Heritage Studies, June 3-8 2016, Montreal, QC (invited)
2016 Paper Presentation, "Canadian Museums and the Work of Human Rights," Society for Applied Anthropology, March 29-April 2 2016, Vancouver, BC
2016 Paper Presentation, "Creating a Virtual and Visual Exhibition Landscape: Reflections on an Ethnography of Process and Design," UVIC Currents in Anthropology: A Student Research Conference, March 4, 2016, Victoria, BC
2015 Paper Presentation, "RIDSAR & Redress: Exhibiting Human Rights in Canada," British Columbia Museums Association Annual Meeting, October 25-27, 2015, New Westminster, BC
2015 Paper Presentation, "Human Rights and Canadian Community Museums," Canadian Anthropology Society Annual Meeting, May 13-16, 2015, Québec City, QC
2012 Paper Presentation, "Archival Theatre: Place and Performance in Early 20th Century London," American Anthropological Association Annual Meeting, November 14-18, 2012, San Francisco, CA
Public Talks
2019 Public Presentation, "Community, Collaboration, Conciliation: Are We Working Together in a Good Way?" Centre for Research in Young Peoples' Texts and Cultures/Centre for Research in Cultural Studies, University of Winnipeg, April 3rd, 2019, Winnipeg, MB.
2018 Public Presentation, "(Re)conciliation and the Pedagogy of Witnessing in Canadian Museums and Arts-based Research", Curating and Public Scholarship Lab, Concordia University, April 27, 2018, Montreal, QC (invited)
2018 Public Presentation, "Little Ripples Make Big Waves": Rights, (Re)conciliation, and Pedagogies of Witnessing in Canada", Department of Cultural Studies Speakers' Series, Queen's University, March 21, 2018, Kingston, ON (invited)
2017 Public Panel, "Creative Acts: Art and Resilience in an Era of Reconciliation", Legacy Art Gallery, September 30, 2017, Victoria, BC (invited)
2016 Public Presentation, "The Exhibition Landscape of Human Rights in Canada," Department of Anthropology Colloquium Series, University of Victoria, January 25, 2016, Victoria, BC
2015 Radio Interview, "Recap of TRC Report Release from Ottawa", The Drive with Terry Moore, C-FAX 1070, June 2, 2015, Victoria, BC
https://soundcloud.com/terry-moore-cfax/june-2-4pm-1
2013 Radio Interview, "My Graduate Experience," Beyond the Jargon, CFUV Radio, University of Victoria, January 21, 2013, Victoria, BC.
2012 Public Presentation, "Archival Theatre: Place and Performance in Early 20th Century London," Department of Anthropology Colloquium Series, University of Victoria, November 5, 2012, Victoria, BC
2011 Public Presentation, "Archival Theatre: Place and Performance in Early 20th Century London," Department Dissertation Presentation Day, Department of Anthropology, University College London, May, 2011, London, UK
The Art of Exhibition
I love spending time in a great exhibition. When art, photographs, objects, and stories come together in the right way they have a tremendous power to make us think, to change how we see the world, and to teach us something we never knew before. Gallery exhibitions have the potential to challenge social, political, and economic norms. Exhibitions can rewrite history. Exhibitions can also be fun. Being in the physical presence of creativity is a great way to spend afternoon, a great way to generate conversations with friends, and a great way to be inspired.
I always imagine this space to be a more active place to write about exhibitions, artwork, collections, and gallery spaces that I engage with in an insightful and critical way. Photos are phase one of this imagined activeness. The writing is phase two and as it would seem, the much harder phase to produce. But the space is here for me (and you?) to imagine and that, I think, is something more than nothing :)
"Scandal: Vice, Crime and Morality in Montreal 1940-1960" - Centre d'histoire de Montréal 2014
Image Copyright JCRobinson 2014
"Tate Brit Lit" - Tate Britain London, UK
Image Copyright JCRobinson 2011
I have a growing fascination with beautiful ceilings. I took this picture looking up at the Tate Britain. This picture was also part of series of photographs of patterns I took around London during 2010-2011. This series of images became the basis for a visual journal project I created representing how I visually processed my time in London.
"Tate Brit Lit 2" - Tate Britain London, UK
Image Copyright JC Robinson 2011
"Ai Weiwei: Sunflower Seeds" Tate Modern: Exhibition 12 October 2010 – 2 May 2011, London UK
Image Copyright JCRobinson 2010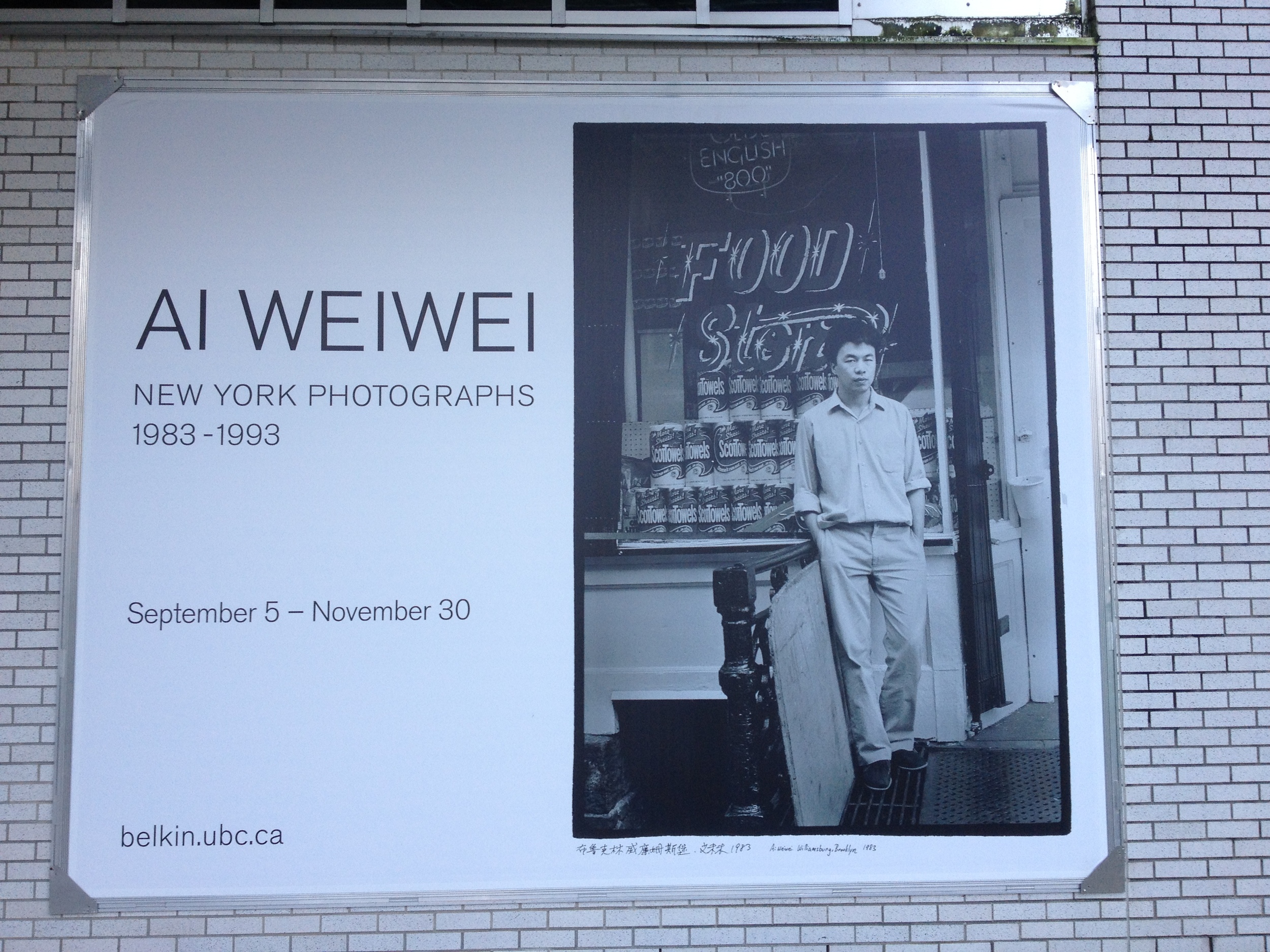 Ai Weiwei New York Photographs 1983-1993
"Bang" Ai Weiwei
Part of 2015 exhibition at Vancouver Art Gallery
Unscrolled: Reframing Tradition in Chinese Contemporary Art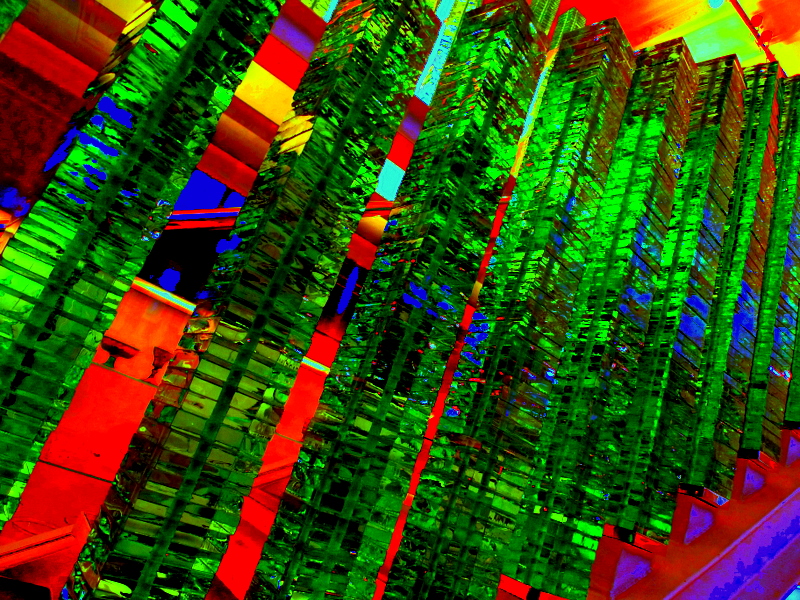 "GlassSass" - Victoria and Albert Museum, London UK
Image Copyright JC Robinson 2011
Morris and Helen Belkin Art Gallery - UBC Vancouver, BC
Image Copyright JC Robinson 2013
National Gallery of Canada - Ottawa, ON
Image Copyright JC Robinson 2014
Canadian Museum of Nature - Ottawa, ON
Image Copyright JC Robinson 2014
From Rationing to Ravishing: The Transformation of Women's Clothing in the 1940s and 1950s -Museum of Vancouver 2015
"The Woodlands" Manitoba Museum
Image Copyright JC Robinson 2015
I have come to appreciate in a strange way the bizarreness of smaller local museums and exhibition spaces within these institutions like this interpretive woodlands exhibition at the Manitoba Museum. I say this because exhibitions like this very much harken back to a period of museum growth in Canada from the 1960s and 1970s onward in which museums began to proliferate the heritage landscape. They remain today however, rather horribly out of date. They literally feel like walking into the past. But a very real question remains: how can heritage professionals even try and keep spaces like this relevant? And even more so, Who should they be relevant for? These interpretive areas were often the place where the visual binaries of Indigenous communities versus early Euro-American settlers have been played out within the museum walls. But with a lack of funding and resources it is a difficult quest to make any huge changes to these spaces... These are thoughts that enter my mind in smaller museum institutions. What will the community museum look like in the ten years?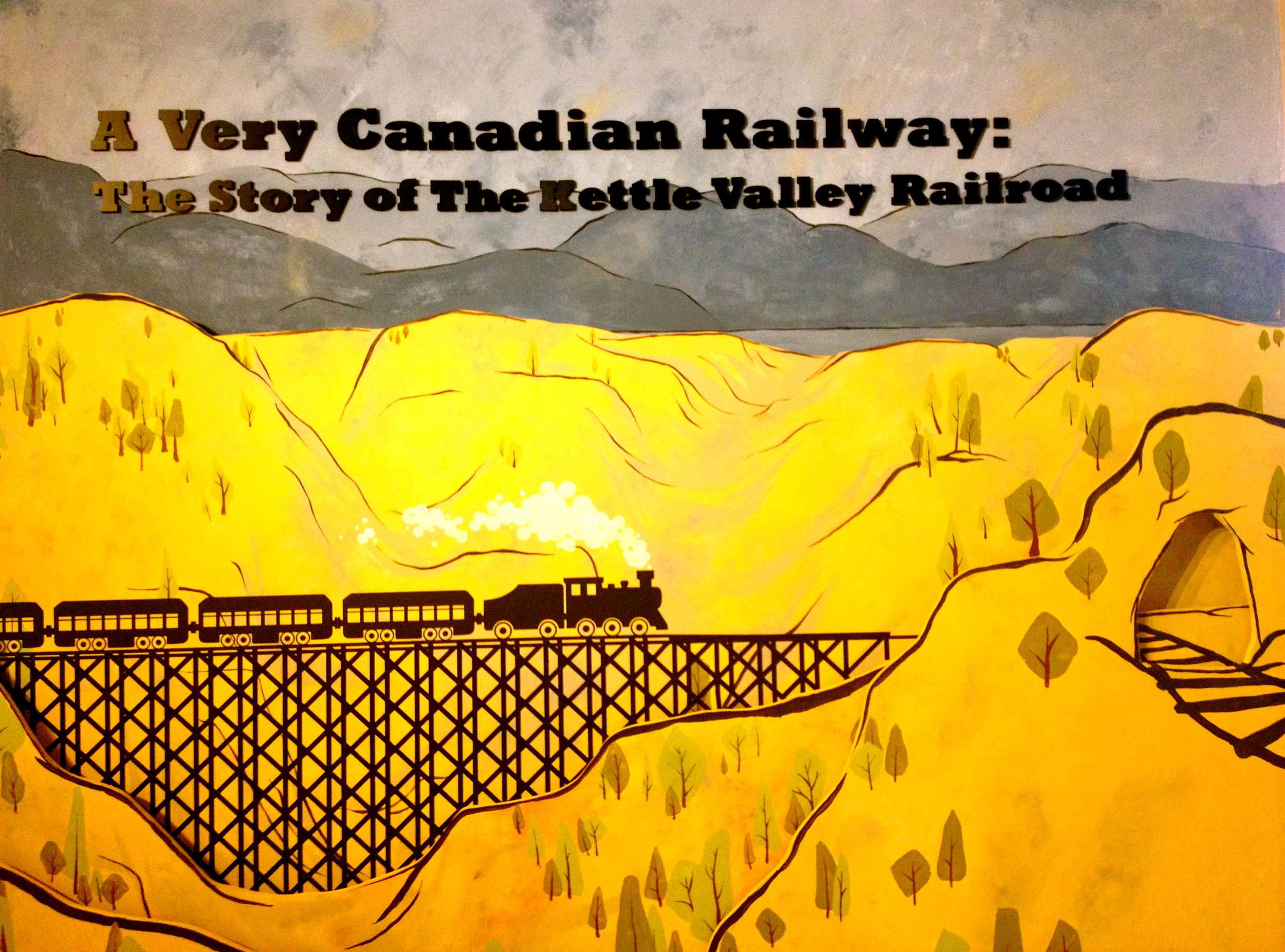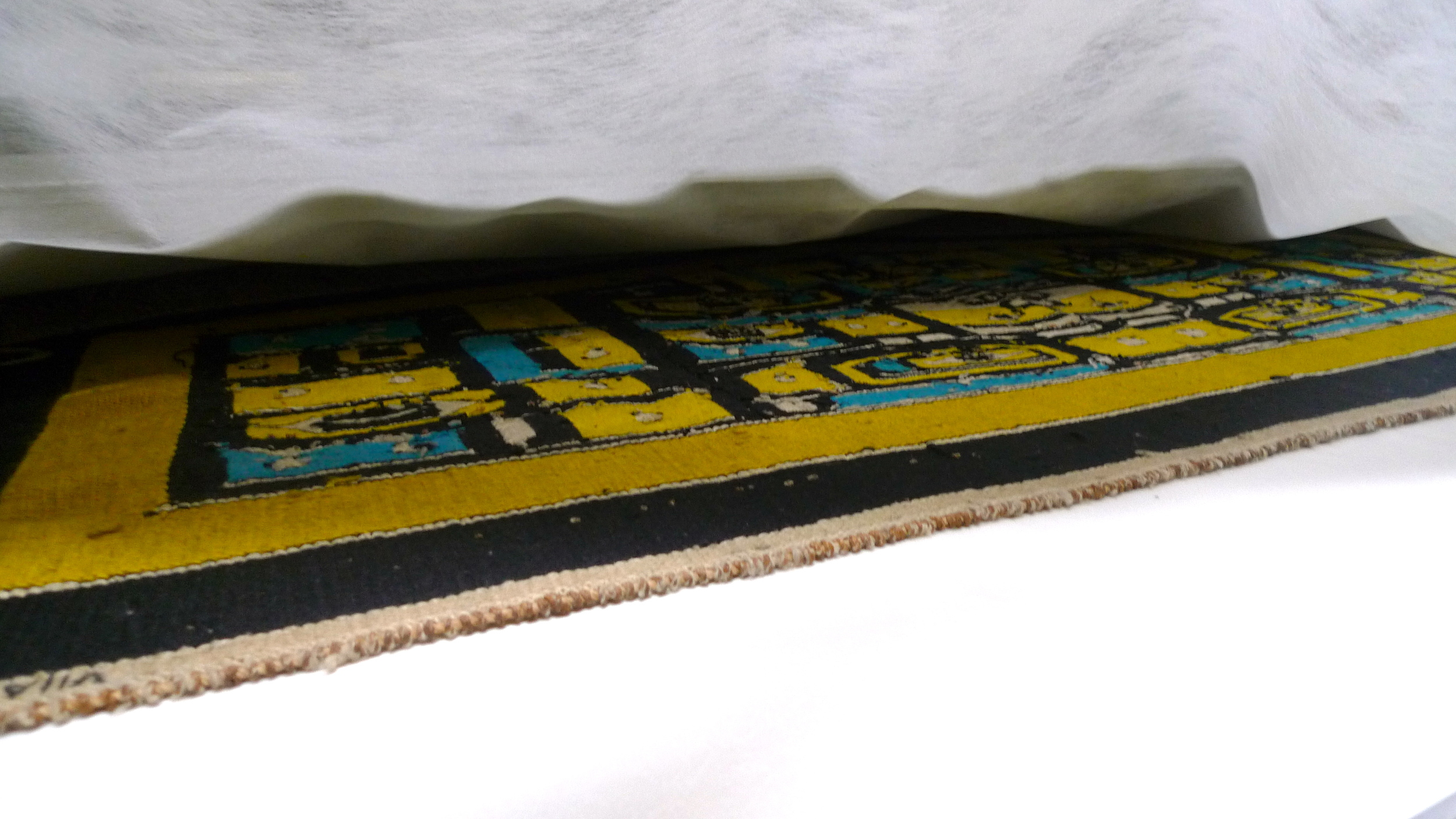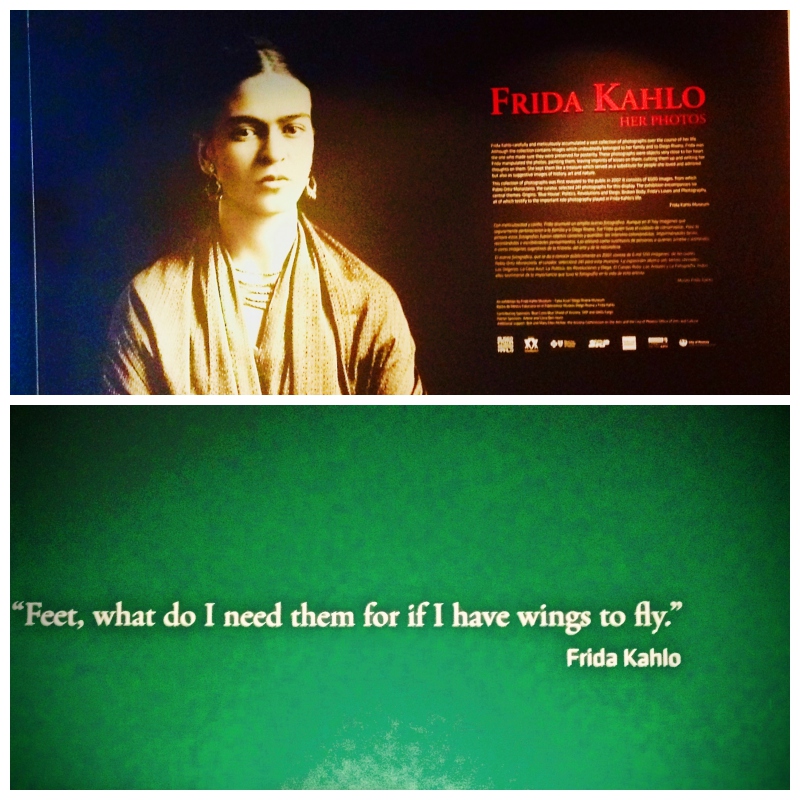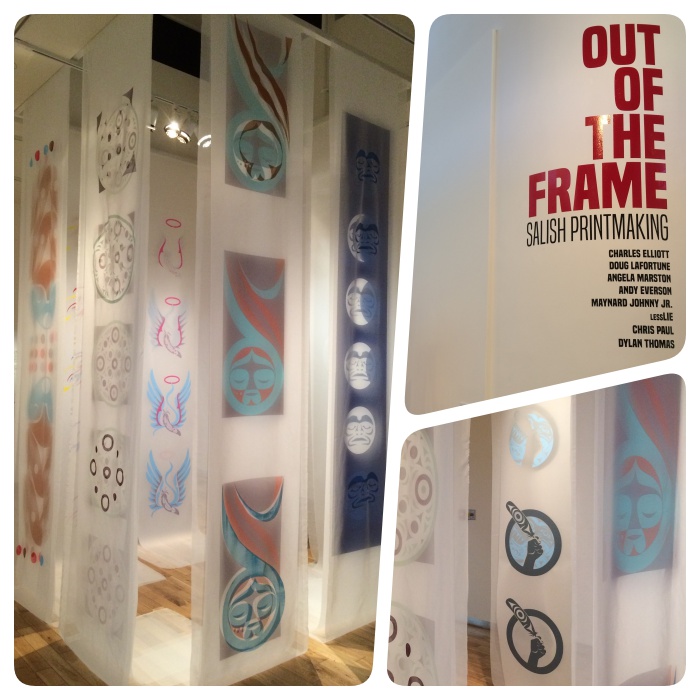 Canadiana
Or, the deconstruction of it.
"The Canadian" Winnipeg Railway Museum
Image Copyright JCRobinson 2014
I have been driven throughout my research to reflect on the complexities of what constitutes Canada. These complexities circle around what constitutes Canada as nation, but also what constitutes Canada as an idea, a brand, a contested and colonial landscape, and a place that is filled with a multiplicity of cultural and heritage practices. I have wondered in this space of circling—is there such a thing as a Canadian Culture? If so, is it found in the lives of people? Or, is it in the diversity of space, place, and people? What diversity is found in the material and visual culture produced across these lands? And, how is culture marked on the landscape in very tangible but also intangible ways? Maybe being Canadian is better described as a mix of people, or a blend of ideas and unique cultural practices? Maybe part of Canadian-ness is the commonalities found in the ever so frequent discussion about the weather and the weird sense of humour Canadians seem to be known for. I continue to wonder in this space of circling about all the lies; about cultural discrimination and acts of hate; and about strategic government policies of segregation and exclusion based on cultural difference. I wonder about stolen lands and broken Treaties. I wonder about equality and justice. Where do histories like these fit when defining what constitutes Canadian culture? How is this narrative of Canadian-ness constructed apart from the "official" national narrative of Canadian history? Can it be? Should it not be? These are questions that follow me in a somewhat haunting fashion, as I live, work, and travel through the territories collectively known as Canada. These questions also haunt me as I travel outside Canada, in a different, slightly distant, and yet equally perplexing way. Given Canada as nation has just recently turned 150, these complexities sit at the heart of much current debate, research, and artistic productions.
So, here in this virtual space, I have carved a place for me to deal with my ongoing quest, interest—obsession?? To contemplate these ideas. This is a place for me, to think through as a descendant of settlers to these lands, what it means to be Canadian. Maybe in collecting a series of images of what I see as representing Canadian culture/counterculture/resistance culture—some assemblage of what this culture might look like may begin to weave itself together.
"Canada Is" - Argyle Attic, Victoria BC
Image Copyright JCRobinson
"Sweet Release" - Vancouver Island, BC
Image Copyright JCRobinson 2013
Living on Vancouver Island has connected be greatly to the rich fishing history in this part of the world. The Island and all along the Coast have been home to Indigenous communities who have fished these waters for thousands of years and families are rich with stories about how fishing was, and still is, an integral part of the culture of Westcoast communities. I have met many people, many whom I am fortunate enough to call good friends, who grew up in fishing families, work(ed) as commercial fisherman, or fish for fun. I have been and will continue to be captivated by their stories. And captivated by the moments of getting to see land from on the water. The ocean is truly such a magnificent force.
"Giniigaaniimenaaing", Ottawa, ON
Image Copyright JC Robinson 2014
This is a replica picture of the glass window panel titled Giniigaaniimenaaing "Looking Ahead" created by Métis artist Christi Belcourt to commemorate Indian Residential Schools. This panel was placed in the Centre Block of Parliament Hill in house of the Canadian Government in fall 2012. Interestingly, while on a tour of Parliament Hill during one of my visits to Ottawa my tour guide knew nothing of this window. I took this to mean that the history behind the window is not part of the docent training or part of what information is to be delivered to visitors about the building.
Chinese Cultural Centre - Calgary, AB
Image Copyright JC Robinson 2014
"Snow" - Exhibition at Canadian Museum of History 2014
Image Copyright JCRobinson
Have you? This silence is magical, and strangely enough having lived away from harsh winters for sometime --- I miss it.
"Resistance" Winnipeg, MB
Image Copyright JC Robinson 2014
"Ottawa River" Ottawa, ON
Image Copyright JC Robinson 2014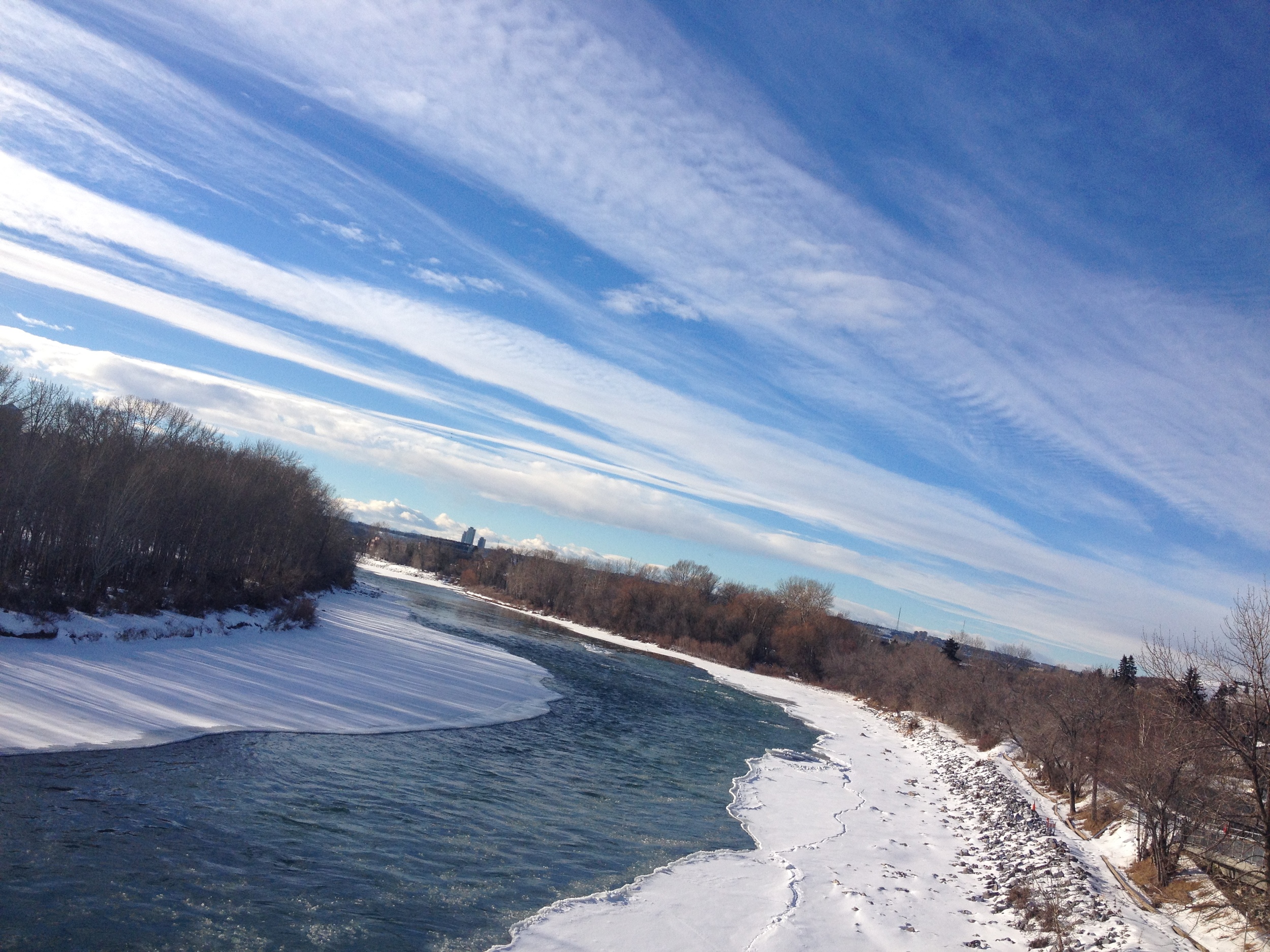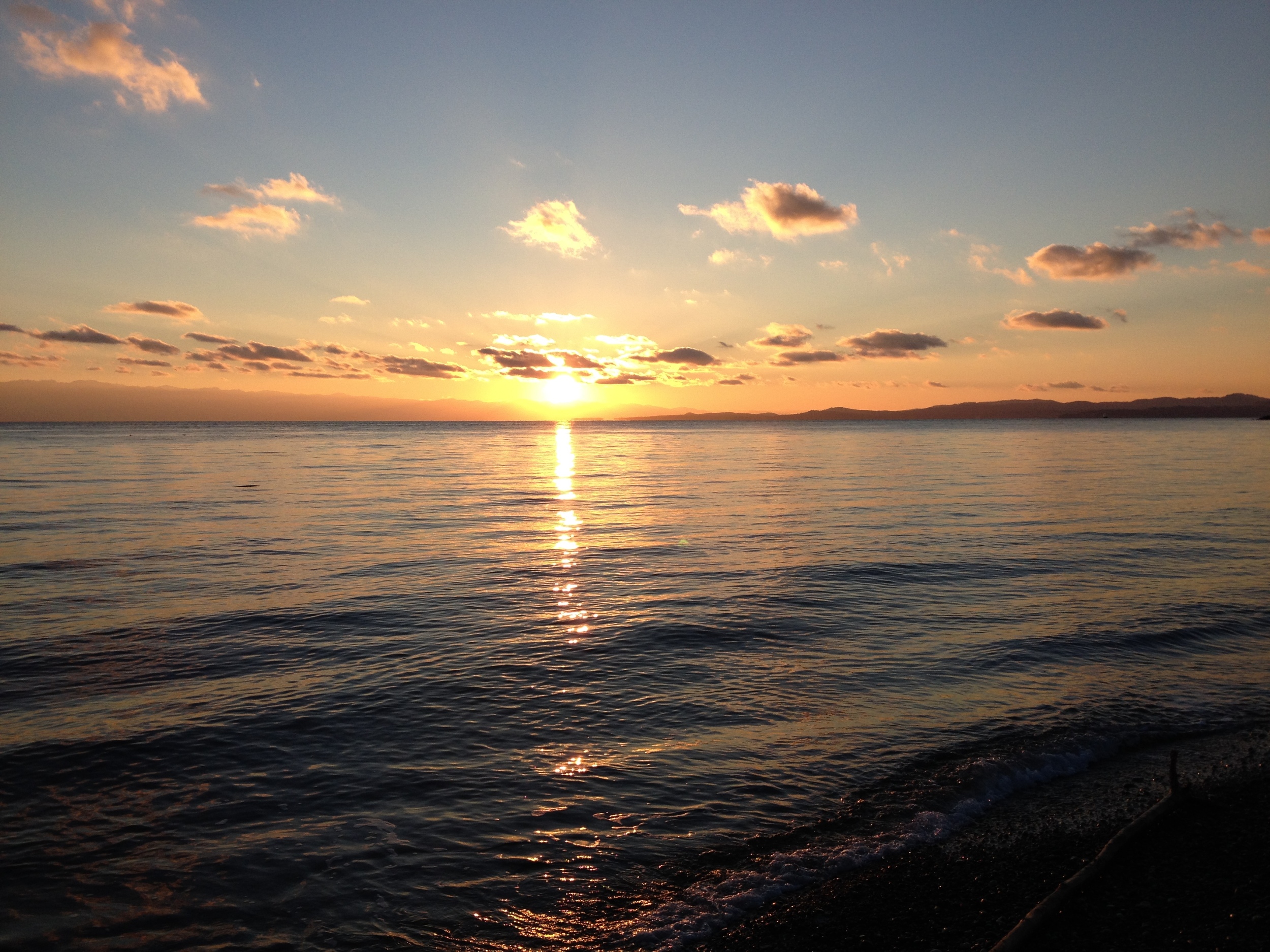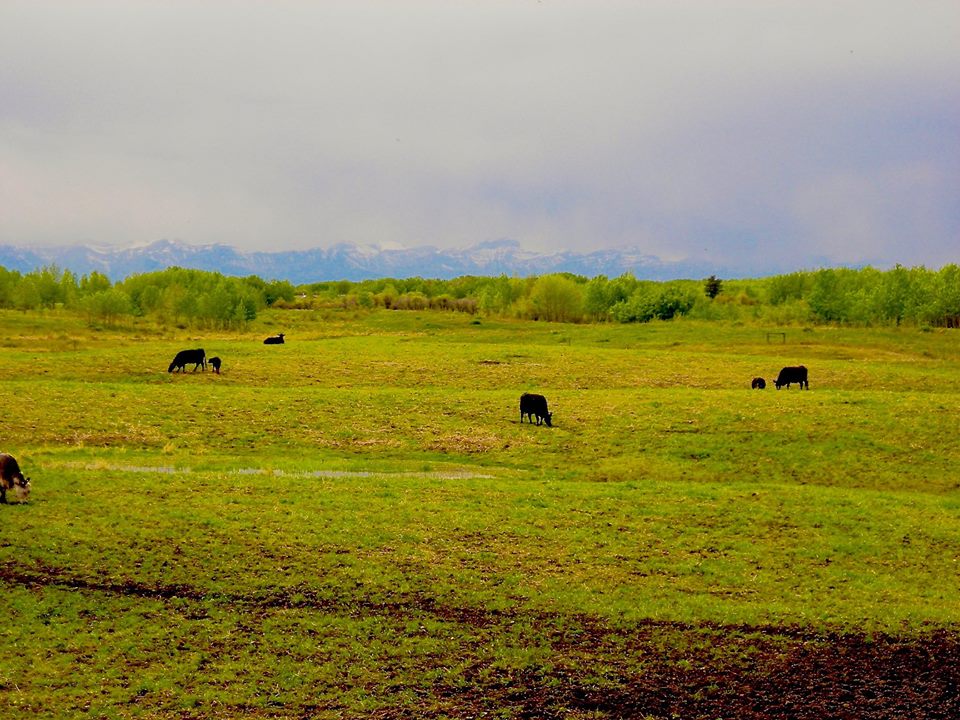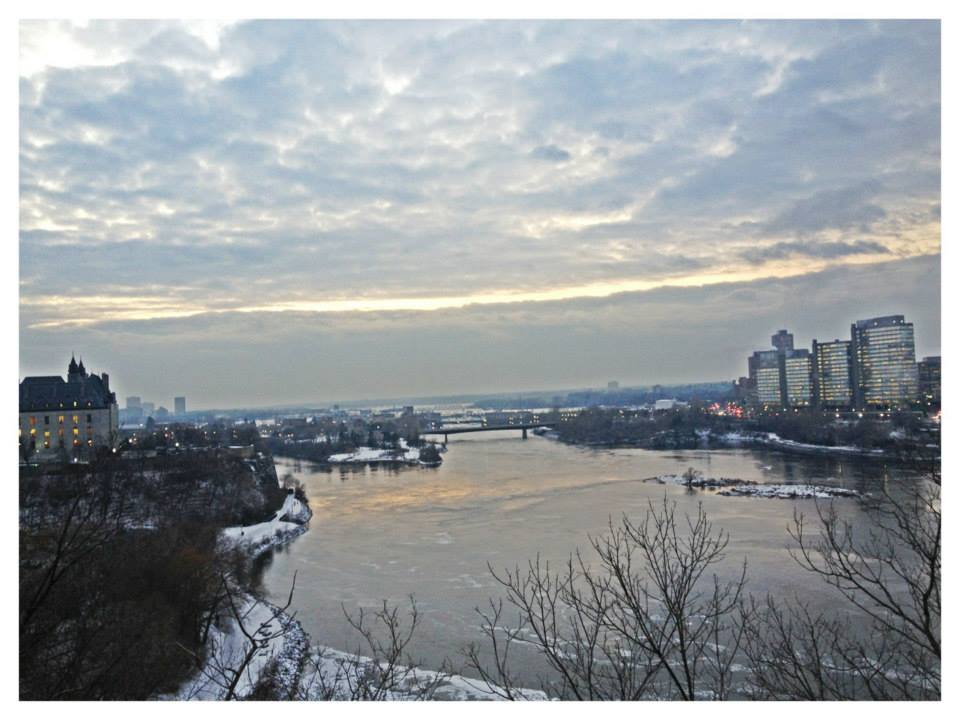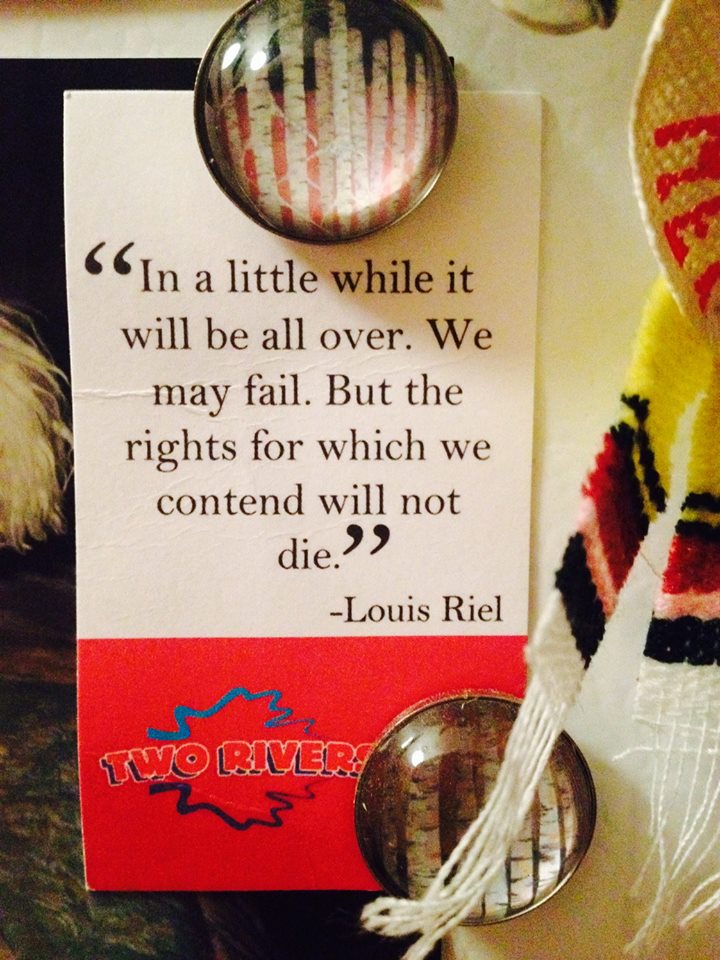 Archival Theatre
Archival Theatre: Place and Performance in Early 20th Century London is the title of my thesis research project I conducted as a component of my MA program in Material and Visual Culture at the University College of London from 2010-2011.
Thesis Abstract:
This paper debates the role of performance in London at the turn of the 20th century using a collection of archival photographs from London's National Portrait Gallery. Taken by photographer Cavendish Morton, these images depict a variety of artists and performers associated with London's artistic community between the years 1900-1930. Performance as it is mobilized through out this paper, is both the topic of historical inquiry and the methodological approach for investigating this history. Through an analysis of the broader social circumstances surrounding the production of these images, performance is illuminated as being an integral mode of cultural exchange in British society in the early twentieth century. The liminal or transitional space created through acts of performance gave entertainers of various genders, ethnicities and class the ability to exert their own agency, manipulate dominant stereotypes and influence British audiences. On space of the stage, the medium of performance had the capability to cross the borders of difference between people, culture and place. As a mode of anthropological inquiry, performance provides a method for conceptualizing the production of these intercultural artistic spaces in the present as well as a unique analytical tool for examining the performative aspects of the practice of photography, archival research and the history-making process.
*A version of the thesis was published in the journal Early Popular Visual Culture http://www.tandfonline.com/doi/abs/10.1080/17460654.2015.1092878?journalCode=repv20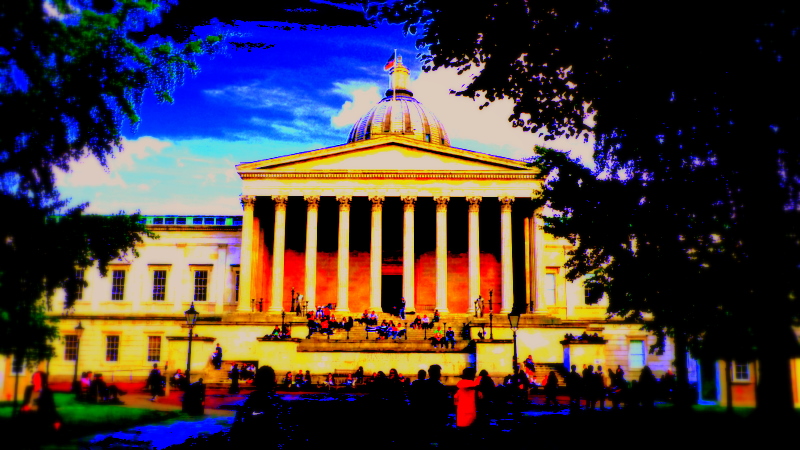 UCL 2010
Community University Engagement
From 2015-2017 I worked as a Research Assistant on various projects with the Community University Engagement Office at the University of Victoria (formerly The Institute for Studies and Innovation in Community. Working with Dr. Crystal Tremblay (see http://www.crystaltremblay.com/), part of this work included conducting background research and proposal writing for a project to measure the impact of community university engagement at the University of Victoria—including how the term "impact" is being used in the context of university work and in what capacity community alliances are creating positive change. I also participated in trial focus workshops and created a series of draft examples of possible frameworks that could be used for measuring the impact of projects that incorporate a high level of community university engagement in Canada and how this work can impact the community, university, and other stakeholders. Additionally I worked on a joint article highlighting CUE research alliances conducted through the CUE office to be published in the Engaged Scholar Journal: Community-Engaged Research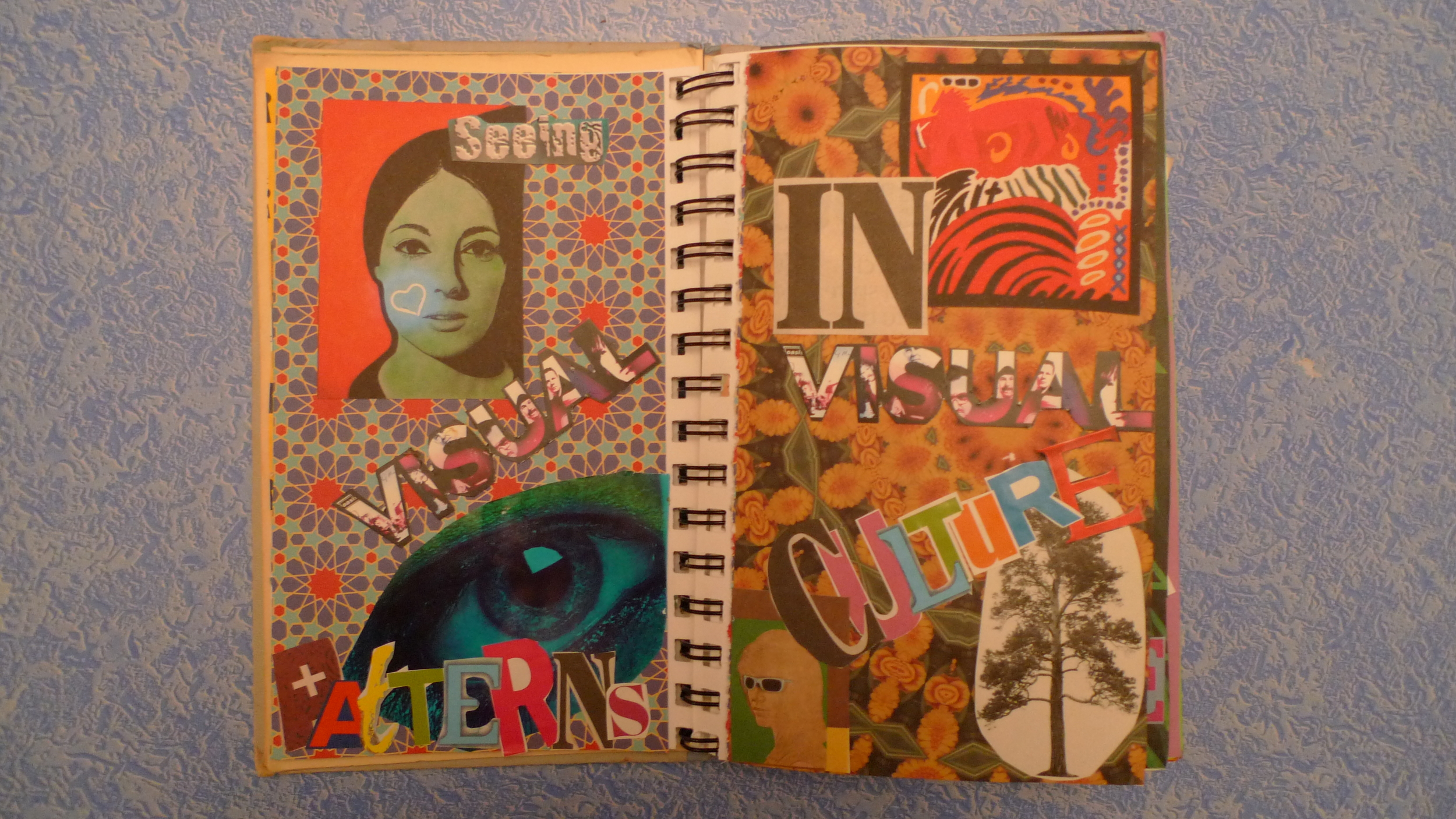 Salish Weave
"Salish Weave" Susan A. Point 2003
During 2016 I took on a unique opportunity to work as a Collections Programmer with the Salish Weave Collection. Salish Weave is to date, the largest private collection of contemporary Salish artwork from artists who draw their ancestry from the Coast and Strait Salish territories, which stretch across Vancouver Island and the lower mainland near Vancouver.
This work, in part, involved managing the future succession plan of the collection of Christiane and George Smyth. The Smyths are seeking to donate their collection into several public institutions in the coming years including the National Gallery in Ottawa and UBC Museum of Anthropology. The move of a collection from the private to public realm comes with many questions and concerns. For the Smyths, there is strong desire for the artwork to help educate about Salish culture and lands through the exhibitions and programming developed in the space of various galleries.
During my time, I worked on future curatorial projects that will allow parts of the collection to be shared, while helping to maintain current curatorial initiatives with partnering institutions. This work included finding news way to build public and educational programming around the collection.
I was part of the UVIC's organizational team on behalf of Salish Weave for Intersections 2016, a highly successful conference co-sponsored by BC Art Teachers Association and the Canadian Society for Education Through Art that brought together art educators from across Canada. The conference focus was how educators can better integrate Indigenous ways of knowing into grade school curriculum. A number of Salish Artists took part as keynotes in this conference through funds provided by Salish Weave to offer their guidance to educators as to how to integrate Indigenous culture and histories in a good way.
More on Salish Weave here: http://www.salishweave.com/
"Reflection" lessLIE 2011
The Cornett Building at the University of Victoria is currently the largest gallery space for the parts of the Salish Weave collection. The building itself is wrapped in this piece by lessLIE. It has been a gift to have such beautiful artwork on the walls of the building I have called home for the last six years; where the presence of Salish culture marks the place where I work in very material ways.
For more on this gallery: http://uvac.uvic.ca/gallery/cornett/
"Salish Knitting" May Sam, Sylvia Olsen, Joni Olsen, Adam Olsen 2012
UBC Museum of Anthropology
The time I spent at MOA from 2007-2010 has been instrumental to my development as a scholar and as a person. During these years, I was exposed to such an incredible wealth of cultural and artistic practices, projects, and events. I witnessed many lively debates and discussions and was able to work closely with an amazing selection of community activists, Elders, students, volunteers, artists, curators, educators, and researchers. During this time, I experienced how MOA serves as a hub for contemporary artistic production and critical cultural and curatorial research including important discussions about how cultural research should and should not, take place in and through museums, particularly as this work pertains to Indigenous material collections.
From 2009-2010 I worked an Internship in the Education and Public Programming Department under Curator Dr. Jill Baird. With this position I was able to co-design and co-facilitate a wide range of programming including developing education programs, site-specific performances or events, hosting artists-in-residency, academic and public conferences, and festivals. Major events include: The Coastal First Nations Dance Festival with the Dancers of Damelahamid; hosting a group of Tibetan Monks in residence; INBODY: A Global Dialogue, a public symposium on the body; and serving as production manager for A Celebration of Creativity, MOA's 2010 5-day Grand Re-Opening festival to mark the completion of major structural and exhibition space renovations.